Speaker's wife Sally Bercow sued over McAlpine tweet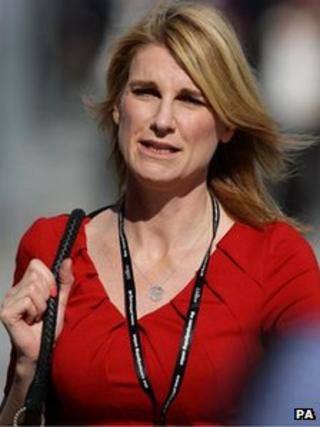 The Speaker's wife, Sally Bercow, is being sued for libel over a tweet she posted linking a former Tory politician to false claims of child abuse.
Her lawyers Carter-Ruck confirmed Lord McAlpine's legal team had made a claim for damages limited to £50,000.
The peer was falsely accused after a BBC Newsnight investigation. He was not named on the programme but was wrongly identified on the internet.
The BBC has already paid £185,000 in libel damages, and ITV £125,000.
Ex-Labour council candidate Mrs Bercow, 43, is the wife of John Bercow, the speaker of the House of Commons.
She was one of several high-profile figures who mentioned Lord McAlpine's name on social networking site Twitter, wrongly linking him to claims of child abuse at the Bryn Estyn boys' home in North Wales.
'Sensible agreement'
Among the other well-known tweeters were comedian Alan Davies and Guardian newspaper columnist George Monbiot.
Mrs Bercow temporarily deactivated her Twitter account after the incident but has since reinstated it.
Lord McAlpine's lawyer Andrew Reid said in a brief statement he was "disappointed" that the legal proceedings had become public knowledge.
He added: "I am still hopeful that we will be able to reach a sensible agreement to settle this matter with the second set of solicitors, instructed by Mrs Bercow, without the need to proceed to a trial."
Newsnight broadcast a report on child abuse in north Wales care homes on 2 November, implicating a "senior Conservative from the Thatcher era" in abuse claims.
It did not name Lord McAlpine but he was linked to the claims on social media website Twitter.
Newsnight carried a full, on-air apology for the broadcast a week later when it become clear that Lord McAlpine was not involved.
A report into the investigation by BBC Scotland director Ken MacQuarrie found Newsnight staff had failed to complete "basic journalistic checks".
The peer also sued ITV after presenter Phillip Schofield handed a list of names of alleged child abusers to Prime Minister David Cameron live on the This Morning programme.