Nelson Mandela death: His mixed relationship with Britain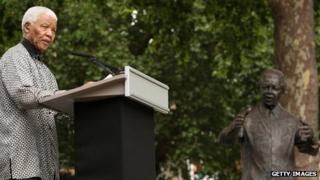 Although he spent his life fighting Britain's colonial legacy in South Africa, Nelson Mandela was an Anglophile. The roots of his close and contradictory relationship with Britain were in his childhood.
Born into a tribal aristocracy in the Transkei, the seven-year-old Rolihlahla Mandela was sent to a Christian mission school.
It was the custom then for all the African boys to be given English names, so on his first day his teacher renamed him Nelson Mandela. They were also taught in the English style.
As he wrote in his autobiography, A Long Walk to Freedom: "The education I received was a British education, in which British ideas, British culture and British institutions were automatically assumed to be superior. There was no such thing as African culture."
The South African writer John Battersby said Mandela absorbed what was good about British values, like a sense of justice and fairness which resonated with him as a tribal elder, but he did it without suppressing his African roots.
"It meant he didn't become a victim of indoctrination. He was one of the few black African leaders who kept in touch with their tribal upbringing," he said.
London visit
Mandela always had ambivalent feelings about Britain. "While I abhorred the notion of British imperialism I never rejected the trappings of British style and manners," he wrote in his memoir.
Many have later observed that much of Nelson Mandela's later political success was down to his gentlemanly good manners and sense of tolerance learned in childhood.
It was also Britain's political system that attracted him. For him a free, multi-party democracy became the model for a new South Africa.
In 1962, as a young man and a freedom fighter on the run, Mandela made a 10-day visit to London. He wanted to see the country he had read so much about and to visit his old friend and fellow founder of the ANC Youth League, Oliver Tambo, who was sick. He also needed literature on guerrilla warfare as the ANC was about to embark on an armed struggle against apartheid.
While in London his ambivalence to Britain was brought into focus. "Despite Britain being the home of parliamentary democracy, it was that democracy that had helped to inflict a pernicious system of iniquity on my people," he wrote.
He tried to influence public attitudes to the ANC during his visit. He met David Astor, the editor of the Observer newspaper, which then became a vocal critic of apartheid. He also met Hugh Gaitskell, leader of the Labour Party, with the Labour MP, Denis Healey, and Jo Grimond, leader of the Liberal Party.
Shakespeare's influence
Back in South Africa, the next years saw Mandela's trial and imprisonment, and his relationship with British culture and literature deepened. He took a correspondence course with the University of London and gained a law degree.
He and his co-prisoners on Robben Island also closely guarded a smuggled copy of the Complete Works of Shakespeare. They protected it by covering it with Hindu greetings cards to disguise its contents.
The passage Mandela chose as his favourite was from Julius Caesar, at the point just before the Roman statesman leaves for the senate on the Ides of March. It includes the lines: "Cowards die many times before their deaths, the valiant never taste of death but once."
After leaving Robben Island, Shakespeare quotations permeated Mandela's speeches. His official biographer, Anthony Sampson, said Shakespeare's plays were one of the main influences on the liberation movement and its leaders, more politically relevant even than the Bible or Marx.
While Mandela soaked up British culture, he in turn had an enormous influence on the British people. During his long imprisonment, Britain became the epicentre of the anti-apartheid movement outside South Africa.
Veteran activist Peter Hain remembers how Mandela's reputation grew during his incarceration. "Nelson Mandela had an almost mystical impact because of his power and dignity and that transmitted itself from the cold cells of Robben Island, so you had roads and student unions named after him," he said.
Official visit
After Mandela's release from prison in 1990, he re-entered the world's stage and one of his favourite destinations was Britain. The fact that the British government under Margaret Thatcher had strongly resisted imposing sanctions on the apartheid government did not cool his attitude to the country at large.
John Battersby observed: "He made a distinction between the government of the day and the British people and the Crown. He had a particular affinity with Queen Elizabeth, having his own royal tribal lineage; he was completely at ease with her."
This was a relationship helped by the fact that there had been no formal contact between Buckingham Palace and the government of South Africa for 46 years.
Mandela's election as president of South Africa in 1994 led to a triumphant state visit to the UK two years later. He paraded down The Mall in the royal carriage with the Queen, dined at Buckingham Palace, and spoke from the balcony of South Africa House in Trafalgar Square, the site of so many anti-apartheid demonstrations over the years.
He movingly addressed packed and cheering crowds: "I love each and every one of you… I would like to put each and every one of you into my pocket and return with you to South Africa."
Former Prime Minister Tony Blair met Nelson Mandela several times and described how he might easily have been disapproving of Britain because of the history of colonialism, but in fact he was quite the opposite.
"He thought the world of Britain, the first thing he'd ask is, how is the Queen? Give her our best wishes. He adored Britain's traditions, its culture and its history," he said.
In 2007, a statue of Nelson Mandela was erected in Parliament Square, facing the Houses of Parliament. The ageing Mandela came to witness the unveiling and responded with a tribute.
"We thank the British people once again for their relentless efforts in supporting us during the dark years. When Oliver Tambo and I visited Westminster Abbey and Parliament Square in 1962, we half-joked that we hoped that one day a statue of a black person would be erected here," he said.
The statue stands in front of the House of Commons, a constant reminder of how far the young African firebrand had travelled and how his lifelong connection to Britain eventually came full circle.