Royal succession bill published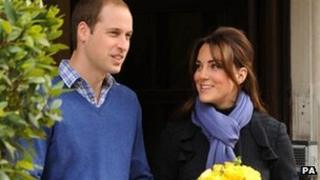 A new law which will end discrimination against women in the line of succession to the British throne has been published.
The Succession to the Crown Bill means the first child of the Duke and Duchess of Cambridge will become monarch, whether they are a boy or girl.
On 4 December, consent was given by all 15 Commonwealth realms to press ahead with the legislation.
The law will be voted on in the Commons as soon as parliamentary time allows.
The new legislation will end the system of male primogeniture, meaning male heirs will no longer take precedence over women in line to the throne.
'Centuries of discrimination'
The bill will also end the ban on anyone in the line of succession marrying a Roman Catholic.
The legislation was agreed in principle at the Commonwealth heads of government meeting in Perth, Australia in October 2011.
Deputy Prime Minister Nick Clegg said the legislation "will bring to an end centuries of discrimination against women".
He added: "I'm delighted that all of the Queen's realms have agreed to this historic piece of legislation, that will enact in law what we agreed back in 2011 - that if the Duke and Duchess of Cambridge have a baby girl, she can one day be our Queen even if she has younger brothers.
"We're pressing ahead with this as quickly as we can - it's clearly something the entire country can get behind towards the close of this momentous Jubilee year."
Amendments to some of Britain's key constitutional documents, including the Bill of Rights and Coronation Oath Act of 1688, the 1701 Act of Settlement and the 1707 Act of Union between Scotland and England, will be necessary to enact the bill.
The duchess's pregnancy was revealed at the start of December when she spent four days at the King Edward VII hospital recovering from a bout of acute morning sickness.