Women bishops: Clergy could ask for MPs' help, Bradshaw says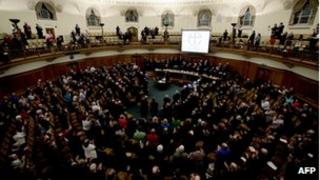 Church of England senior clergy should ask for Parliament's help if they cannot force a rule change on allowing women bishops, MP Ben Bradshaw says.
Last month, the Church's general synod voted narrowly against the move.
But the synod's House of Bishops has now said it will draw up new proposals to be returned to the synod in July.
Labour's Mr Bradshaw told the Commons bishops could ask MPs to help by amending laws, but some Tory and Labour MPs said they should not get involved.
The House of Bishops announced on Tuesday that it planned to decide next May on a legislative package to put before the governing synod next summer.
The bishops said the package must have "greater simplicity" than the previous measure but they also moved to reassure opponents their place in the Church was secure.
The new law must recognise both supporters and opponents of women bishops were "loyal Anglicans", they said.
Speaking in a backbench debate, former culture secretary Mr Bradshaw said many people in the Church thought women bishops were a "done deal".
He said elections for a new synod were not due until autumn 2015, adding that "unless some of those who voted 'no' this time can be persuaded to change their minds, I have doubts about the bishops being confident of getting the revised measures through" before then.
"In announcing before this debate that they will have another go in July, the bishops really do need to be sure that they will win," the Labour MP for Exeter added.
"The process must be concluded quickly in months and not years, and if they are not sure that they can deliver, they must ask Parliament for help."
That help could include changing the Equality Act which exempts the Church from allowing women to take up senior positions.
He said he had received many letters from clergy and Church lay members asking Parliament to step in.
'PR damage'
"A priest from Lancaster wrote to me saying: 'Please, please, please help'. She went on to ask us to remove the exemption for the Church from equality laws, describing it as 'deeply offensive to women priests'," he said.
Conservative MP for Torridge and West Devon Geoffrey Cox was among MPs who disagreed with Mr Bradshaw, saying Parliament should stay out of the issue.
Mr Cox, who said he was "resigned" to the inevitability of women bishops, even though he could not support it himself, added: "The rules by which the decision of the synod was reached were created for a reason.
"Constitutionally-weighted majorities are invariably introduced around the world, not only in the Church but in countries, to protect minority opinions."
And Labour MP for Birkenhead Frank Field said that, while the introduction of women bishops was "long overdue", he did not favour "interfering with the processes that are synod's processes".
The measure to allow women to be bishops passed in the synod's Houses of Bishops and Clergy on 20 November, but failed to gain the required two-thirds majority in the House of Laity. It would have needed to pass all three houses to be adopted by the Church.
Opponents of women bishops were not satisfied with the provisions for them in the measure - these required diocesan bishops to appoint stand-in bishops for them, in a manner which "respected" their views.
They wanted the stand-in bishops to have more independent authority.