Newspaper review: Papers reflect on 'changing Britain'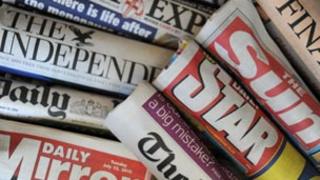 Several papers use a photo of the first Sikh guardsman to wear a turban at Buckingham Palace to illustrate what the Times calls "the changing face" of modern Britain.
Census figures for 2011 showed the number of residents born overseas was up by almost three million since 2001.
The Guardian says Jatenderpal Singh Bhullar - who went on duty without a bearskin - represents the "changing of the guard".
The paper's columnist, Jonathan Freedland, says the figures added cold hard facts to the diverse image presented by Team GB at the London Olympics.
"This was not PR fluff," he says, "but demographic reality. Britain is confident, capable and gloriously plural."
Immigration debate
The Sun journalist, Anila Baig, also links the census figures to the Olympics, saying the Games proved that multi-culturalism was not in fact a dirty word.
Her newspaper, however, has doubts about what it calls the dramatic impact of the scale and pace of the influx of foreign nationals.
The Sun says no consideration was given to whether schools and hospitals could cope - and concludes simply: "They can't." The Daily Star says Britain needs to control immigration.
The Daily Telegraph says that while immense strain has been placed on public services since the 2001 census, at least the issue can now be openly debated.
Gay marriage
There is a warning of another increase in the cost of energy on the front page of the Daily Mail.
The paper says the Office for Budget Responsibility told MPs that a 5% increase in prices was likely next winter, and consumer groups are predicting even bigger rises.
The paper says customers have seen a rise in average bills of 159% over a decade, with pensioners and poorer households choosing whether to heat or eat.
Gay marriage is still making headlines for the Times, which says the government decided to exempt the Church of England from new laws in order to "appease" bishops and Tory MPs.
But it reports that members of the clergy are still nervous they could be made to conduct gay weddings because Labour could help pass a revised law.
The leader of the UK Independence Party, Nigel Farage, has told the Guardian he will exploit Conservative divisions, and go after Tory voters who abandon the party over the issue.
He says it could rip apart the traditional rural Tory vote.
Pavement parking
The Daily Mail reports on an unexpected pantomime villain at a school nativity play in Surrey.
It was a police officer who interrupted the show after 15 minutes to tell parents they were parked badly on the pavement, and had to move their cars.
Some who therefore missed their child's performance called the officer's actions "petty meddling".
He insisted it was a low-key intervention and that most people understood.
It is thought that the performance of "Tinsel and Tea Towels" finished without further incident.