Bus support 'cut for second year'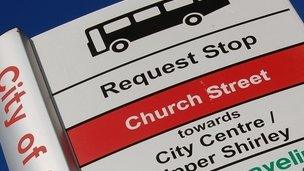 More than 40% of local authorities in England have cut spending on supported bus services this financial year, figures obtained by campaigners show.
The Campaign for Better Transport said it used Freedom of Information requests to find funding was being reduced by £18.3m - 16% - for such services.
In 2011/12 one in five, or 9%, of services which are supported by councils were cut or reduced.
The government said some councils were finding ways "to meet passenger needs".
Local authorities have a statutory duty to provide appropriate transport services. Where such services do not make money - typically in the evenings, at weekends and in rural areas - they rely on financial support through the local government transport grant and the bus service operators grant.
Figures from the Campaign for Better Transport show that in 2011 central government cut the transport grant by 28%, while this financial year the operators' grant has been cut by 20%.
The group says more than 100 supported services in south-west England were lost this year, while the east of England saw cuts of £4m.
Stephen Joseph, chief executive of Campaign for Better Transport said buses were vital to both communities and the economy.
"Without them many people are isolated, unable to access jobs or reliant on the car.
"By making year on year cuts like these, we run a very real risk of tipping services into a spiral of decline."
But transport minister Norman Baker said his department "strongly supported" bus travel.
"We accept that the overall funding settlement for local authorities is challenging but some councils are responding positively to this and finding more flexible and cost-effective ways to meet passenger needs," he said.
"Bus patronage levels in rural areas are almost exactly the same as they were last year and the predicted collapse in passenger numbers has not happened. In addition, around 80% of bus services outside London are commercially run, so do not rely on direct funding from councils."
Related Internet Links
The BBC is not responsible for the content of external sites.