CPS backs 'insulting' law change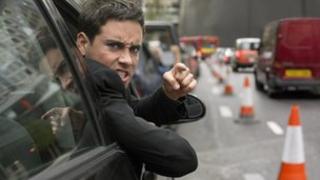 A law banning "insulting" words or behaviour, which has led to some controversial cases, could be dropped, the Director of Prosecutions says.
Free-speech campaigners have been calling for Section 5 of the Public Order Act 1986 to be scrapped.
Keir Starmer said the Crown Prosecution Service had changed its position ahead of a Lords vote this week.
Campaigners said he had effectively removed the home secretary's "chief excuse" for resisting the change.
She had expressed concern it would prevent people being prosecuted for swearing at police officers.
Mr Starmer signalled the change in stance in a letter to former West Midlands chief constable Lord Dear, who is seeking the law change in a House of Lords vote that is expected on Wednesday.
An amendment, tabled by the crossbench peer, to the Crime and Courts Bill by the crossbench peer would remove the "insulting" element.
'Pulls the rug'
Campaigners say Section 5, which outlaws the use of "insulting words or behaviour" leads to spurious arrests as there is little clarity of what that includes.
One teenage boy was arrested for holding a "Scientology is a dangerous cult" placard and a student was held for telling a police officer his horse was "gay", campaigners say.
Despite opposing the change in two recent Home Office consultations, Mr Starmer told him they had revised their opinion after "considering the case law in greater depth".
"We are unable to identify a case in which the alleged behaviour leading to conviction could not properly be characterised as 'abusive' as well as 'insulting'," he wrote.
"I therefore agree that the word 'insulting' could safely be removed without the risk of undermining the ability of the CPS to bring prosecutions."
He noted, however, that "there are other policy considerations involved".
Simon Calvert, campaign director for the Reform Section 5 group, said: "This is great news that pulls the rug from under the government's chief excuse for resisting reform.
"The Home Office has continually used the line that if it removes the word 'insulting', then it would not be able to prosecute hooligans and yobs who swear at the police.
"We hope that the Home Secretary Theresa May will listen to the country's top prosecutor and agree to reform this overboard and unwanted legislation, which has a chilling effect on free speech."