Marines Afghan murder case is adjourned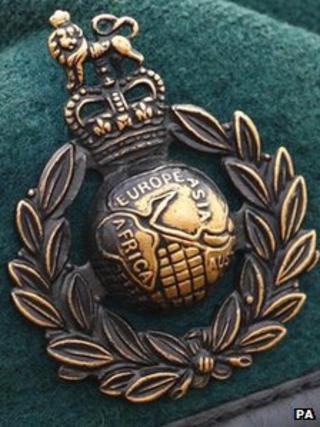 Five Royal Marines charged with the murder of a captured Afghan national have appeared in court in Wiltshire.
They were charged with murder following an incident believed to have happened in September last year in Afghanistan.
The men, who for legal reasons can only be referred to as Marines A, B, C, D and E, had attended for a plea and case management hearing.
But the case was adjourned to 8 March and the five commandos were released on conditional bail.
The men sat behind a white screen in the courtroom as they listened to legal argument at the Military Court Centre in Bulford.
Prosecutor David Perry told Judge Advocate General Jeff Blackett that there was "good reason" for the case to be adjourned, so the defence counsel could consider all the material relating to the case.
The judge agreed the hearing should be listed for 8 March, and the court was told that the trial itself would be set for a date after 1 September.
After the first hearing in October, which was held behind closed doors, a judge granted the Marines anonymity due to a "real and immediate risk" to the men's lives.
Since then further orders have been granted extending the anonymity order, which will be reviewed at the conclusion of court martial proceedings.