Duchess hoax: Australian radio station 'sought permission'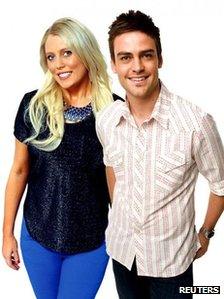 The Australian radio station at the centre of the UK royal hospital hoax death says it tried to contact the nurses involved to seek permission to broadcast the taped conversation.
Sydney station 2DayFM said at least five attempts were made.
King Edward VII's Hospital said it had no comment to make on the claim.
Nurse Jacintha Saldanha was found dead three days after putting through a call that gathered details of the pregnant Duchess of Cambridge's condition.
The duchess had been in hospital with an extreme form of morning sickness called hyperemesis gravidarum.
The hoax call was made by DJs Mel Greig and Michael Christian, who have been taken off air and are being counselled.
The pair are expected to break their silence on Monday in an interview to be broadcast on Australian television.
The Nine Network said the pre-recorded interview was "raw and emotional".
Meanwhile, 2DayFM has said it is going to review its broadcasting practices.
In an interview with a Melbourne radio station 3AW, Rhys Holleran - whose company Southern Cross Austereo owns 2DayFM - said his staff had tried several times to make contact with Mrs Saldanha and another nurse at the King Edward VII's Hospital to get their permission to use the prank conversation before it was transmitted.
Mr Holleran said the death of Mrs Saldanha was "tragic" and "regrettable", but that it "could not have been foreseen".
Some legal experts in Australia have said that if the radio station did not tell the nurses they were being recorded, or received their permission to broadcast the conversation, they may be in breach of a number of laws.
The board of Southern Cross Austereo met on Sunday to discuss a highly critical letter from the central London hospital which was the victim of the prank call.
Southern Cross Austereo chairman Max Moore-Wilton promised in a letter to the chairman of the hospital that the company would co-operate with any investigation.
He said: "We are all saddened by the events of the last few days. They are truly tragic.
"It is too early to know the full details leading to this tragic event and we are anxious to review the results of any investigation that may be made available to us or made public."
An inquest into Mrs Saldanha's apparent suicide is due to be opened in the next few days.
She was pronounced dead on Friday morning at staff accommodation close to the hospital.
She had answered the presenters' call and, believing they were members of the Royal Family, put them through to another nurse, who described the Duchess of Cambridge's condition in detail.
There has been a strong reaction both in the UK and Australia towards Ms Greig and Mr Christian since the death of Mrs Saldanha, and both have been receiving counselling.
Both deleted their Twitter accounts and were taken off the air, but a Southern Cross Austereo spokeswoman said they had "expressed a desire to speak".
"We haven't ascertained when they're ready for that and how we're going to organise that, but they certainly want to," the spokeswoman said.
Ms Saldanha's husband, Ben Barboza, has written a tribute to her on his Facebook page.
"I am devastated with the tragic loss of my beloved wife Jacintha in tragic circumstances."
"She will be laid to rest in Shirva, India."
The family were being comforted by relatives and friends at their home in Bristol, where they were visited by Labour MP Keith Vaz on Sunday.
He said the family are "grief stricken and shocked" at Mrs Saldanha's death and were grateful to the hospital for establishing a memorial fund in her name.
Related Internet Links
The BBC is not responsible for the content of external sites.