Newspaper review: Focus on dead hoax nurse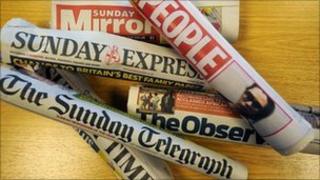 Further details about the nurse who was found dead after falling victim to a hoax call about the Duchess of Cambridge emerge in Sunday's papers.
The Independent on Sunday has a photo on its front page of Jacintha Saldanha with the headline, "Death of a Nurse".
And the Sun on Sunday says her husband, Benedict Barboza, is "devastated" by the death of his "beloved" wife.
The Sunday Express says the nurse's family are in "utter disbelief" over the tragedy.
The Sunday Times says detectives leading Operation Yewtree, the inquiry launched in response to the Jimmy Savile scandal, are investigating claims against 25 celebrities.
The paper reports that six of the group will be arrested in the coming weeks.
The Mail on Sunday understands the Commons Home Affairs Committee will recommend that Parliament should consider new "radical" drugs laws.
The paper believes this will pave the way for legalisation.
Labour leader Ed Miliband will make a "high risk move" by opposing changes to benefit payments, the Observer reports.
It says he will oppose the policy of increasing benefits by 1% over the next three years, which was announced in last week's Autumn Statement.
Senior Tories will "fight for gay marriages in church", according to the Sunday Telegraph.
Education Secretary Michael Gove and London Mayor Boris Johnson are among a group of 19 behind the move.
The Sunday Mirror and the Sun on Sunday report on the ex-wife of a millionaire who managed to dial 999 with her tongue after she was tied up by burglars who doused her in petrol.
The papers report that Sheila Quadrini, 69, was set upon by three youths when she returned to her home in Newcastle.
And the Sunday Times reveals that the Queen will deliver her Christmas message in 3D.
It says she recorded the message in the format on Friday at Buckingham Palace.