Terry Waite returns to Lebanon 25 years after kidnapping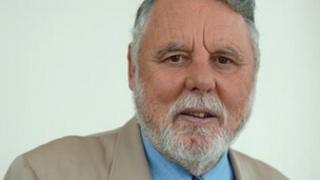 Former hostage Terry Waite has returned to Lebanon, 25 years after he was kidnapped and tortured by a cell linked to the militant group Hezbollah.
Mr Waite returned to Beirut last week, and met senior Hezbollah figure Ammar Moussawi for two hours.
He told the Sunday Telegraph he asked the group to unite different religious groups and communities in the region.
As the Archbishop of Canterbury's special envoy, he was seized in 1987 and held hostage for nearly five years.
He had been attempting to negotiate the release of Western hostages, but was taken hostage, kept in solitary confinement, chained to a radiator and often beaten.
'Past is the past'
The 73-year-old, who lives in Suffolk, said he had been invited to return in particular to see for himself the plight of "the many Christian refugees who are flooding across the Syrian/Lebanese border to escape the horrors of the so-called Arab Spring".
He said the British people would think him "crazy" for going back, but added he wanted to consign his suffering to the past and forgive his captors.
Mr Waite met Mr Moussawi in a Hezbollah stronghold in southern Beirut.
Hezbollah is a powerful political and military Shia Muslim movement in Lebanon, where it is part of the government. Several Western nations, including the US, as well as Egypt and Bahrain, have designated it a terrorist organisation, accusing it of a long record of attacks.
Although he has been back to Lebanon since his release, it was the first time Mr Waite had returned to the spot where he was taken and to Beirut's southern suburbs where he was held.
Mr Waite, who was accompanied by a Sunday Telegraph reporter and photographer on the trip, told Mr Moussawi: "The past is the past".
"I believe that reconciliation between larger groups, political groups, has to begin here with our own personal reconciliation," he said
Writing in the newspaper, Mr Waite said: "I applauded the new spirit of co-operation that existed between the majority of Christian communities and Hezbollah, and I said that I would like to see that co-operation extended to encompass all people throughout the country."
Mr Waite also warned that the Arab Spring had become a force of "oppression" and chaos in neighbouring countries.
Hezbollah had "a vital role in working for and holding the peace" in the region, he wrote, urging them to help Syrian Christians fleeing the current civil war raging between Syrian President Bashar al-Assad and anti-government protesters.
In January 1987, Mr Waite travelled to Beirut in Lebanon on behalf of the Archbishop of Canterbury to try to help with the release of Western hostages they had been told were sick.
However, Mr Waite himself was kidnapped by Hezbollah, who accused him of being a CIA agent with knowledge of deals between Iran and USA.
He was held for 1,760 days, during the majority of which he was deprived of contact with the outside world. His family did not know whether he was alive or dead for four years until the release of Irish hostage, Brian Keenan.
During his first year as a prisoner Mr Waite was beaten on the soles of his feet with cables and threatened with an execution that turned out to be a scare tactic.
In the last six months of his imprisonment, his captors gave him a small radio with which he listened constantly to the BBC World Service - once hearing a broadcast of Bach's organ music from his family on his birthday. He later said this had been a great source of hope.
Mr Waite was eventually released in November 1991.