Kate nurse Jacintha Saldanha death dominates papers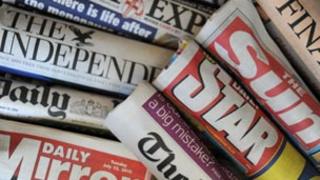 The death of a nurse who fell victim to a hoax call about the Duchess of Cambridge is the main story for a number of Saturday's newspapers.
The Times says the Royal couple are at the centre of a personal tragedy at what should be a time of great joy.
Jacintha Saldanha's friends tell the Daily Telegraph she would have been "hit badly" by the prank.
And the Independent editor says the tragedy should not be used as a means to denounce the media as a whole.
The Daily Mail carries an interview with Sally Roberts, the mother who is fighting a legal battle to prevent her seven-year-old son being given radiotherapy for a brain tumour.
Mrs Roberts insists that she merely wants to "consider the options".
Economists tell the Guardian the latest falls in industrial output have raised the prospect of a triple-dip recession.
It says a period of severe wintry weather could be all it takes to cause GDP to drop over the next two quarters.
David Cameron's support of same sex marriages in church comes in for criticism from two of the papers.
The Daily Express accuses the prime minister of an attempt to "win kudos from the liberal Left".
The Sun urges him to "rejoin the real world" and concentrate on the issue that really matters - the economy.
The Daily Mirror argues that Mr Cameron deserves praise for taking on the Tory traditionalists.
The Financial Times reports that US bank JP Morgan is close to agreeing to pay back up to £500m in taxes that were avoided by placing staff bonuses in a trust based in Jersey.
It says past and present employees were asked to volunteer to repay the tax.
If the Daily Express is to be believed, the meteorological outlook is none too promising.
It warns that the "Arctic blast" heading for Britain next week could bring up to six inches of snow.