Duchess of Cambridge hoax call nurse death a 'tragedy'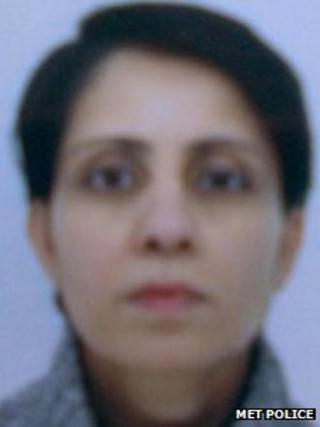 The death of a nurse who took a hoax call about the Duchess of Cambridge was a "tragedy", the Australian radio station which broadcast it has said.
Rhys Holleran, chief executive of the company that owns Sydney radio station 2Day FM, said DJs Mel Greig and Michael Christian were "completely shattered" by the death of Jacintha Saldanha, 46.
The pair posed as the Queen and Prince Charles in a call on Tuesday morning.
Scotland Yard have now released an image of Mrs Saldanha.
It is thought she killed herself. A Metropolitan Police spokesman said a post-mortem examination would not take place until next week.
The station has suspended adverts, and the show has been taken off-air.
Speaking at a press conference in Melbourne, Mr Holleran, chief executive of Southern Cross Austereo, said he did not think any laws had been broken.
This was in contrast to a statement on Tuesday by hospital chief executive John Lofthouse, who said he had "received advice that what the Australian broadcasters did may well have broken the law".
The two DJs telephoned the hospital early on Tuesday morning, and recorded the call. It was then assessed by the station's lawyers before being broadcast on 2Day FM.
Mrs Saldanha, a duty nurse, answered the phone because it was 05:30 GMT and there was no receptionist on duty.
She put the pair through to the duchess's nurse, who unwittingly revealed details of the pregnant duchess's medical condition.
The duchess had been admitted on Monday for acute morning sickness, and was discharged on Thursday.
Mr Holleran told journalists that Mel Greig and Michael Christian's show would not be returning until further notice.
He said: "This is a tragic event that could not have been reasonably foreseen and we are deeply saddened by it."
But he added: "I think that prank calls as a craft in radio had been going on for decades. They are done worldwide and no-one could reasonably have foreseen what happened."
The network later suspended all advertising on 2Day FM until Monday.
BBC correspondent Duncan Kennedy said the decision was meant as a sign of respect, although with several advertisers, including Australia's largest supermarket chain, already pulling their adverts, it was more like damage limitation and to avoid further bad publicity.
Before the death, the country's media watchdog, the Australian Communications and Media Authority, had received complaints about the broadcast. Chairman Chris Chapman said: "These events are a tragedy for all involved and I pass on my heartfelt condolences to the family of the deceased nurse in London.
"The ACMA does not propose to make any comments at this stage, but will be engaging with the licensee, Today FM Sydney, around the facts and issues surrounding the prank call."
In a statement, Mrs Saldanha's family said they were "deeply saddened by the loss of our beloved Jacintha". They have requested privacy from the media.
On Friday, the Duke and Duchess of Cambridge said in a statement they were also "deeply saddened" by the death of Mrs Saldanha, a duty nurse who was married with two children.
And King Edward VII hospital paid tribute to "a first-class nurse who cared diligently for hundreds of patients".
She had also worked at North Bristol NHS Trust for a number of years dating back to 2003. A trust spokesman said: "We are shocked and saddened by this news and offer our sincere condolences."
'Excellent nurse'
BBC royal correspondent Peter Hunt said he understood Mrs Saldanha - who was staying in hospital accommodation close to hospital - was the person who answered the call from the DJs and was not the nurse who discussed the duchess's medical condition.
The BBC understands Mrs Saldanha had not been suspended or disciplined by the hospital.
The BBC's Nicholas Witchell said it had been suggested to him that she had felt "very lonely and confused" as a result of what had happened.
The St James's Palace statement said the duke and duchess "were looked after so wonderfully well at all times by everybody at King Edward VII Hospital, and their thoughts and prayers are with Jacintha Saldanha's family, friends and colleagues at this very sad time".
A palace spokesman later added that "at no point did the palace complain to the hospital about the incident".
"On the contrary, we offered our full and heartfelt support to the nurses involved and hospital staff at all times."
Scotland Yard said officers were called at 09:35 GMT on Friday after reports of a woman found unconscious at an address in Weymouth Street, central London. She was pronounced dead at the scene.
Police said the death was not being treated as suspicious.