Angolan plane fall man: Residents seek end to mystery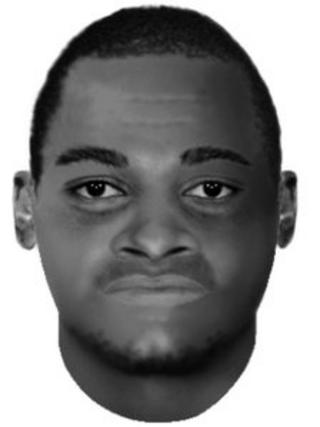 Police officers, the UK's Angolan community and residents of a west London street where a stowaway fell to his death from a plane are hoping a computerised image of the man's face and a photo of his tattoo will lead to his identification.
Shortly before midnight on Saturday, 8 September, an unknown man thought to be in his 20s prepared for a terrifying journey.
Under cover of darkness, and dressed in a thin grey hooded top, jeans and a pair of white trainers, he clambered into a tiny space inside the wheel housing of a passenger jet bound for London.
As protection against the extremes of temperature and pressure which were to come, he had taken just one precaution - he had stuffed bits of crumpled white tissue paper into his ears.
Eight hours later, as the aircraft's undercarriage was lowered over Mortlake, in south-west London on its approach to Heathrow Airport, the man plummeted to earth through a clear blue Sunday morning sky.
"It was 7.42. A massive, massive bang woke us up," says Lizzie Calfe.
The man was found dead with horrific injuries directly opposite her house in Portman Avenue. Three months on, like many of her neighbours, she still wants to discover the man's story - who he was, and what made him attempt such a desperate journey.
"You don't forget, you walk past where it happened and you think: 'He had a family'."
Tattoo clues
The Metropolitan Police are still struggling to solve the mystery.
"It might be no-one knows he's missing, it could be someone reported him missing and is desperately keen to find out where he is," said Det Sgt Jeremy Allsup, who is trying to piece together clues about the man's identity.
The man was carrying Angolan currency and fell at the point where a British Airways flight from the Angolan capital, Luanda, was passing directly over Portman Avenue.
Police have now released other clues about his identity. The man's face, which was destroyed on impact, has been painstakingly rebuilt to help detectives try to find out who he is. They have also released a photo of a distinctive tattoo on the man's left arm, with the initials Z G.
"If you showed that picture to a relative or friend, they could clearly identify him," said Det Sgt Allsup.
Sim card
But the most promising lead was in the man's pocket. He was carrying a mobile phone which may contain numbers of his family and friends, possibly allowing the man's relatives to be traced in a matter of hours.
"It could be as simple as one number saying 'Mum'."
But the phone is locked. Details of the Sim card have been passed to the Angolan authorities along with the man's DNA, dental records and photographs. Nothing has come back.
Det Sgt Allsup adds: "We've asked the Angolan authorities to approach the phone company and say, 'How do we unlock this phone, how do we find the names stored in the phone, who was calling him, who was he calling?'
"At the moment, no-one has given me the indication they will do a thorough investigation."
The Angolan embassy has yet to respond to a request for a comment on the case.
Meanwhile, others are also trying to find information about the man's identity.
Gama Mossi, an Angolan who was granted asylum in the UK in 2000, has organised vigils with other Angolan exiles at the spot on Portman Avenue.
"It's crucial for us to pile on enough pressure so that the Angolan government releases information in the Angolan media.
"We know there will be someone who will come forward and tell us - this is my friend, my brother, my work colleague."
Back in Portman Avenue, many residents are also hoping new information will emerge.
"We put a rose there, others put lilies and small bunches of flower," says Santina Watson who lives opposite the spot where the body was found.
"Someone wrote a poem for him - The Man That Fell to Earth.
"I would like to know his story - why he did it."
Critics of Angola, one of Africa's major oil producers, say power and resources are controlled by a small elite who are intolerant of dissent.
Gama Mossi believes that is why the man may have tried to flee the country: "He probably had no job, was nothing in Angolan society. He had nothing to lose, like millions of ordinary Angolans. Our voice doesn't count."
Det Sgt Allsup says: "None of us have any idea how this will be resolved. I presume if we can't identify him, he will have to be buried in the UK."
For Angolan exiles, like Gama Mossi, that would be the worst outcome.
"It's crucial in our culture, you are only dead after your family has buried you in our traditional way. If this man is buried here with no name, no family, it's like he is still alive - a missing soul."
The Metropolitan Police have appealed for anyone with information to call officers on 0044 (0)20 8247 7202; or Crimestoppers on 0044 (0)800 555 111.
BBC reporter Rob Walker is making a BBC radio documentary about the search for this man's identity, which will air next year. You can email him here: crossing.continents@bbc.co.uk