Autumn Statement impact considered by papers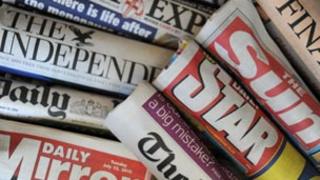 The impact of the chancellor's Autumn Statement is considered in a number of Friday's newspapers.
The Times says disability charities have accused George Osborne of being "misleading" about the extent to which disabled people will be affected.
The Daily Telegraph and the Guardian report a warning by economists.
They argue that fresh curbs on welfare spending for those hit hardest by the Autumn Statement are inevitable in the next round of austerity measures.
The decision by US coffee chain Starbucks to pay more tax in the UK is widely welcomed in Friday's papers.
It is the Financial Times's lead. The paper says the move sends a troubling signal to other American companies under attack over their taxes in the UK.
The Guardian says the announcement by Starbucks is a "victory for consumer power" amid fears of a boycott of its shops.
It was "shamed into paying", is the Daily Mirror's view.
Cold weather
Cabinet colleagues have advised the chancellor not to try to protect Britain's triple-A credit rating because they believe its loss is now inevitable, the Guardian reports.
On Thursday, credit rating agency Fitch said Britain's triple-A status was at risk after it emerged the government's debt-reduction target would be missed.
The Daily Mail reports the legal victory of the wife of a sick musician.
She has won her legal fight to force a hospital to keep treating him. .
Several papers warn that Britain is braced for a bout of cold weather.
Temperatures making this the UK's coldest winter in 20 years are expected next week when a low pressure system roars in from Siberia, according to the Daily Express.
Bitter gales are set to send temperatures plummeting to around -15C - colder than the North Pole.
The Daily Telegraph says up to four inches (10cm) of snow is forecast to fall in many areas.