Military covenant 'improving' bond with general public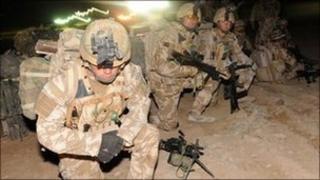 The UK is doing better at honouring its covenant - the nation's duty of care to personnel - with the armed forces, the Royal British Legion has said.
However, it said more still needs to be done on housing for the forces, as well as the treatment of reservists and foreign and Commonwealth personnel.
The covenant was enshrined in law last year to ensure nobody in the forces was disadvantaged by their service.
The MoD faces cuts of some £735m in its core budget for 2013 to 2015.
That was announced in the chancellor's Autumn Statement, which was unveiled on Wednesday.
It means the MoD will bear a fifth of the new reductions announced in public spending.
However, officials insist the cuts will not affect equipment or numbers in the armed forces.
Meanwhile, the government has now published the first annual report on the covenant.
It has emerged that auditors have refused to give the MoD's accounts a clean bill of health for the sixth year running.
The National Audit Office raised concerns over record-keeping for equipment and spare parts worth around £10bn.
Integration review 'priority'
The Royal British Legion said that housing remained a big issue for service personnel and their families, while the forces' families federations said they were still deeply concerned at the cumulative effect of the pay freeze for many in the military, cuts to allowances, and changes to pensions.
While the Legion broadly welcomed the report, and the announcement of an additional £100m for service accommodation, it said it was concerned this was not enough to offset a three-year halt in improvements to accommodation for single service personnel.
The charity also said the planned integration of reservists with regular forces meant that a review of the health and welfare needs of reserves must be a priority.
Defence minister Mark Francois said the MoD had made good progress over the last year in rebuilding the armed forces covenant, but said he recognised there was still more to be done.