Leveson report: Editors 'agree on broad proposals'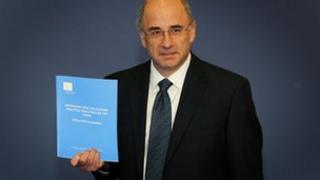 National newspaper editors have "unanimously agreed" to put in place Lord Justice Leveson's "broad proposals" for self-regulation - "save the statutory underpinning".
They said they would report back to the government "very shortly" on how they would "implement the Leveson plan".
They met on Wednesday to try to come up with a plan strong enough to see off demands for a body underpinned by law.
PM David Cameron does not want such a law, but Labour and the Lib Dems do.
"The editors of all national newspapers met yesterday and unanimously agreed to start putting in place the broad proposals - save the statutory underpinning - for the independent self-regulatory system laid out by Lord Justice Leveson," a statement said.
In his report into press standards and ethics last week, Lord Justice Leveson recommended an independent self-regulatory watchdog for the press, backed by legislation.
Labour and the Liberal Democrats both support statutory underpinning, but Prime Minister David Cameron, many Conservative MPs and newspaper editors are against it.
Earlier this week, Mr Cameron said "the clock is ticking" and press proposals "absolutely" had to meet the report's other requirements.
In a press conference at the Houses of Parliament on Thursday, campaign group Hacked Off accused politicians and newspaper editors of making deals "behind closed doors".
It said that, until all Lord Leveson's proposals were implemented, "the concerns of the victims, the concerns of the public, will not be dealt with and will not go away".
On Wednesday, speaking on BBC Radio 4's Media Show, Independent editor Chris Blackhurst said the editors had been through all of Lord Leveson's proposals point by point "and pretty much agreed to them all".
The Guardian, whose editor Alan Rushbridger was at the meeting, reported on Wednesday that the editors had not signed up "to seven recommendations that proposed a role for Ofcom or some other statutory body in auditing the work of the regulator".
Instead they had agreed "to wait to see what non-statutory proposals Downing Street would have to offer in the coming days", the paper said.