Jimmy Savile scandal: Hospital abuse helplines set up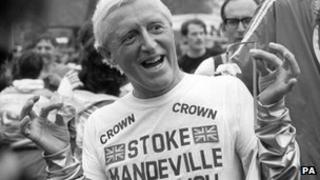 Victims of Jimmy Savile's abuse at Leeds General Infirmary, Stoke Mandeville and Broadmoor hospitals are being asked to contact new helplines.
The phone lines and email addresses will help to provide evidence for four NHS investigations - including an internal inquiry at the Department of Health - into the late TV star.
Terms of reference for the four inquiries have also been published.
They include how his role as a fundraiser related to his abuse.
The entertainer - who police believe may have abused as many as 300 people during 40 years - was given extensive access over decades to the three NHS hospitals.
Each hospital will carry out its own investigation, with the DoH internal inquiry looking into how Savile was appointed in 1988 to lead a taskforce overseeing management at the high security psychiatric hospital Broadmoor.
Kate Lampard, a former barrister who is overseeing the inquiries, said it was important "that victims of this abuse can be certain these investigations discover exactly what happened and what went wrong".
Ms Lampard, who is also vice-chairman of south of England NHS regional authority, said that, by ensuring "all the investigations are working to the same goals, I'll be able to undertake a lessons learned exercise to ensure any relevant findings benefit the wider NHS".
Other terms of reference outlined include considering whether Savile was given special access or privileges and whether he was subject "to usual or appropriate supervision and oversight" at the hospitals.
Reviewing "past and current complaints and incidents concerning Jimmy Savile's behaviour" at the hospitals is also among terms of reference.
The health service says the investigations should be completed by the second half of 2013.
Savile, who died last year aged 84, was best known as a Radio 1 DJ and the presenter of the Jim'll Fix It show on BBC One.
The BBC has announced two inquiries as a result of the abuse claims, and a further review into the current sexual harassment policies at the corporation.
There is a further investigation into the circumstances surrounding the dropping of a Newsnight investigation into Savile.
Other inquiries being carried out into Savile's behaviour include Scotland Yard's Operation Yewtree criminal investigation into sexual abuse claims and the Director of Public Prosecutions' review into decisions not to prosecute Savile in 2009.