Women bishops: Backers look to new general synod election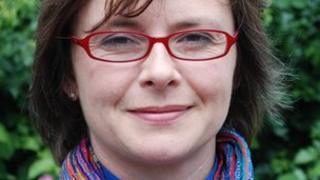 Campaigners for women bishops in the Church of England say attempts at compromise should be abandoned.
The Women and the Church group wants the next general synod, which sits from November 2015, to approve a law simply saying women can lawfully be bishops.
But opponents want further talks after the previous proposal failed in the general synod last month.
Meanwhile the synod's House of Bishops has said it will draw up new proposals to be returned to the synod in July.
A measure to allow women to be bishops passed in the Houses of Bishops and Clergy of the Church's governing general synod on 20 November, but failed to gain a two-thirds majority in the House of Laity. It would have needed to pass all three houses to be adopted by the Church.
Opponents were not satisfied with the provisions for them in the measure - these required diocesan bishops to appoint stand-in bishops for them, in a manner which "respected" their views.
They wanted the stand-in bishops to have more independent authority.
The Rev Rachel Weir, who chairs Women and the Church (Watch) said she hoped elections to the new general synod would give its preferred "single-clause" law the two-thirds majority it needed.
Ms Weir, a curate in the Oxford diocese, is optimistic that elections due in autumn 2015 can produce a synod which would pass the measure.
Before, most churchgoers had trusted the system to deliver and had not realised the measure might fail, she said.
"Everybody just thought this legislation was trundling along down its various tracks and that at the end we would have women bishops."
But now, she added: "You can feel the energy out there - and outrage, actually, at what's happened."
She said the first step would be to encourage people to get on their church electoral rolls - because the numbers on these rolls determined how many representatives a parish had on the local synods in the Church's 718 deaneries.
Lay members of the deanery synods elect the members of the general synod's House of Laity.
Elections to the deanery synods are due in spring 2014 - "so that's obviously a key first date to start getting people motivated," said Ms Weir.
Following their success last month, opponents of women bishops called for fresh talks.
Canon Simon Killwick (who chairs the synod's Catholic group) and Prebendary Rod Thomas (of the evangelical group Reform) pledged jointly to help "ensure the speedy and safe passage of fresh legislation".
If agreement can be reached at round-table talks, fresh legislation can be fast-tracked through the current synod, they insist.
In a briefing for MPs ahead of a backbench debate in the Commons later on Wednesday, Canon Killwick insisted that the opponents did not want to block women bishops but simply to ensure their own place in the Church.
Traditional Anglo-Catholics and conservative evangelicals would have been "threatened with exclusion" by the measure, he said.
The synod's House of Bishops announced on Tuesday that it planned to decide next May on a legislative package to bring before the synod in July.
The bishops said the package must have "greater simplicity" than the previous measure.
But they also moved to reassure opponents that their place in the Church was secure.
The new law must recognise that both supporters and opponents of women bishops were "loyal Anglicans", they said.
Ms Weir said much time and money had already been spent fruitlessly in trying to reach a compromise:
"What we're setting out to do is to make women bishops," she added.
"And we really must keep that as our central objective and not get completely sidetracked by the issue of provision when it seems that we can't actually come to a compromise in the law that's satisfactory."
She told the BBC News website: "We don't want anybody to leave but we can't go on indefinitely going round the same loop.
"The overriding principle is simple legislation, and trust in the diocesan bishop to meet the spiritual needs of those in their care.
"We're certainly not saying there should be no provision; we do respect that people have different views on this, but we would like them to trust their diocesan bishop to care for them appropriately."
The English Church should learn from other Anglican provinces which had women bishops, she added, such as Californian Bishop Mary Gray-Reeves, who "went and had a relationship with other parishes" and "did not insist on exercising her episcopal rights there".
The law should allow this attitude to flourish, she said: "Trust is built through relationships. If you legislate against relationships you never get the trust."