Operation Elveden: Journalist arrested in Sussex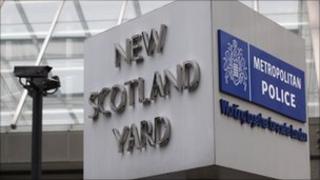 Another journalist has been arrested by Metropolitan Police investigating claims of inappropriate payments to police and public officials.
The 38-year-old woman was arrested at her Sussex home about 06:30 GMT by officers from Operation Elveden.
She was bailed to return to a Sussex police station in March.
She was the 53rd person arrested by Operation Elveden, which is running in conjunction with Operation Weeting, the police inquiry into phone-hacking.
She was arrested on suspicion of conspiracy to corrupt contrary to the Criminal Law Act 1977 and suspicion of conspiracy to cause misconduct in a public office contrary to the Criminal Law Act 1977.
Police said the arrest was the result of information provided to police by media company News Corporation's management standards committee, which was set up in the wake of the phone-hacking scandal at the now-closed News of the World.