Police pay should start £4,000 lower, says tribunal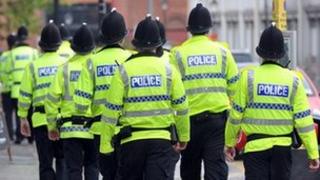 A tribunal has recommended the starting salary for police constables in England and Wales should be cut by £4,000.
It follows proposals put forward by Tom Winsor for an overhaul of police pay, conditions and allowances. He proposed cutting starting pay to £19,000.
The Police Arbitration Tribunal has agreed but has not decided about his recommendation for compulsory redundancy for police officers.
The Home Office said Home Secretary Theresa May would consider the finding.
Paul McKeever, Chairman of the Police Federation, told the BBC: "Although we respect the decision of the Police Arbitration Tribunal we are very disappointed that starting salaries for police constables will be £19,000.
"How this is meant to fit in with the ambition of the Home Office to professionalise the police service and recruit the very best we do not understand."
A Home Office spokesperson said: "The home secretary received the Police Arbitration Tribunal's report and will now consider its finding very carefully, in line with her statutory responsibilities.
"It is important that ministers take the time to consider the report in full before making a decision."
The tribunal said it could not decide on the severance issue and recommended more negotiations.