Newspaper review: Papers digest Autumn Statement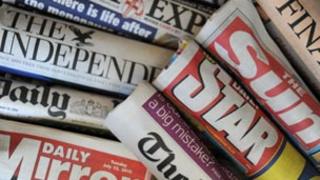 The chill economic news announced by Chancellor George Osborne is discussed in several newspapers.
The front page of the Daily Telegraph shows a picture of two people struggling in blizzard conditions in Aberdeen alongside the headline, "Long, Hard Road to Recovery".
This theme is picked up by the Times which speaks of a hard road to 2018.
But the front page is taken up with a less than flattering cartoon of the chancellor failing to fill up a car.
Jonathan Freedland in the Guardian argues that the coalition's austerity strategy "turned to dust" when Mr Osborne admitted he would miss his target for getting national debt under control by 2015.
Balls 'hesitant'
The Daily Mail describes the chancellor as "canny" by daring Labour to oppose real-terms cuts in welfare payments.
The Independent concludes that the Autumn Statement was a mini-Budget more about politics than economics.
The Sun praises the chancellor for curbing benefits and imposing a petrol duty freeze.
The paper argues that after the disasters of the earlier "pasty tax" Budget, this was a genuine attempt to be more in tune with ordinary voters.
Mr Osborne may also take comfort from the criticism which the papers reserve for his opposite number, Ed Balls.
The Financial Times says Mr Balls was hesitant - knocked off course by the realisation that borrowing would fall.
The arrest of the BBC television and radio presenter Stuart Hall for indecent assault is the lead for the the Sun and the Daily Mirror..
The papers picture the 82-year-old star of It's a Knockout receiving his OBE earlier this year for services to broadcasting and charity.
The Mail suggests Mr Hall had been regarded as a "national treasure" - in part for his florid football match reports.
Jazz legend
The papers pick up on a warning that middle-class children are suffering breakdowns because their parents are too risk averse.
The Telegraph quotes the psychologist, Professor Tanya Byron, who argues that many young people lack mental toughness because they are not being given the chance to fail at school.
The obituary writers are full of praise for the achievements of the legendary jazz pianist, Dave Brubeck, who died on Wednesday.
The Times says that his quartet personified the West Coast sound of the post-war years. .
The Telegraph believes that his success owed something to the way he identified a significant new audience for jazz among American college students.
The Guardian says Brubeck infuriated the purists, but his pieces could be whistled at the bus stop - and that is likely to go on happening for a long time.