Sir Ranulph Fiennes' 'coldest journey' begins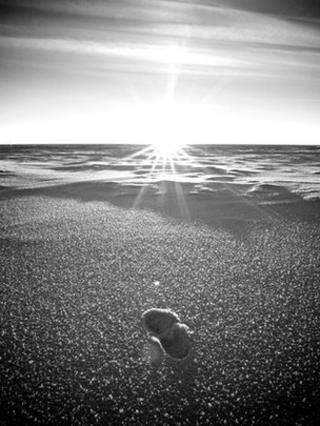 Sir Ranulph Fiennes is leading a team of five other explorers in a quest to achieve a feat no other human has managed - to walk across Antarctica in the near permanent darkness and super low temperatures of winter.
Phase one of The Coldest Journey expedition - which aims to raise millions of pounds in donations for the Seeing is Believing charity to tackle avoidable blindness - begins later when the icebreaker SA Agulhas sets off from the River Thames.
The journey from a wintry Thames to the ice shelf of Antarctica will take just over a month.
During their sea voyage, team members will obtain data on marine life, oceanography and meteorology.
On Thursday afternoon, after a suitable send off, the SA Agulhas will weigh anchor and slip beneath Tower Bridge on its way to the world's coldest continent.
The expedition force is led by the man known as the world's greatest living explorer - 68-year-old Sir Ranulph Fiennes.
It's an expedition that's been in the planning stages for years, Sir Ranulph says on the bridge of the ship, while looking at a map of his route.
"The idea came up about four-and-a-half years ago. We started approaching the Foreign Office for permission to go and we finally got it 10 days ago."
Aboard the SA Agulhas is a giant crane. It will be used to lift some 200 tonnes of equipment onto the ice of Antarctica.
It consists of three huge industrial sledges - each with a modified shipping container placed on top.
Inside two of them are living quarters, and supplies. In the third, a science lab.
Behind these there'll be another 14 smaller sledges, each transporting fuel.
That will power the two bulldozers that have been specially re-equipped for this expedition, in the hope they can drag the entire team across 2,000 miles of some of the world's most inhospitable terrain.
In front of this whole procession, two skiers will lead the way, pulling a small ground-penetrating radar system that will help them locate crevices. That will be crucial if they are to make it across.
The expedition proper - from the Russian base of Novolazareskaya to the Ross Sea - is due to begin on 21 March and is expected to take six months.
"The vehicles are a bigger potential problem than the people," believes Sir Ranulph. "Minus 80 could be damaging to lung tissue when you're breathing while skiing."
But he says that, "in the vehicles you have steel and rubber which don't like minus 70 - never mind when they're towing everything - so there is an unpredictable element there".
To get Foreign Office permission to go to Antarctica they had to prove they could be self-sufficient. That's why the vehicles must be used to tow everything they might possibly need. In the Antarctic winter there's no way of being rescued.
"That means everything from vehicle spares down to a toothbrush," says Brian Newham, who'll be on the team crossing the continent, and who's also been organising the gear for the expedition.
He's even been counting the number of sheets on a toilet roll.
"We're taking 165 rolls. That's one for all of us for every 2.25 days," he says.
Is that enough?
"I'd better have it right," he smiles.
Everything they take with them will be removed from the ice at the end of the expedition. Including the human waste.
There's enough food for each of the six-person team to last 365 days if it's necessary. They hope it won't be.
The food consists of specialist dried fruits, sports nutrition products, and normal dried foods like lasagne. They can't take tins with them as they'd freeze and burst.
"I can't say I think we can make it," admits Sir Ranulph.
"I don't know it's possible - it's rather like the Americans when they went to the moon. Was it possible? They didn't know."