Abid Naseer loses extradition appeal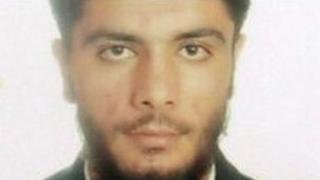 A UK-based terror suspect has failed in his bid to stop his extradition to the US after the European Court of Human Rights threw his case out.
Alleged al-Qaeda operative Abid Naseer had argued he could be tortured if returned to Pakistan from the US.
The US wants to put him on trial for his part in alleged plots to plant bombs in the UK, New York and Norway.
The Home Office said it would work to hand the 26-year-old over to the US "as quickly as possible".
Mr Naseer, who originally came to the UK on a student visa, was among 11 men arrested in 2009 in Manchester and Liverpool, accused of a plot to attack unspecified targets in Manchester.
Mr Naseer, along with the other men, were released without charge.
Mistreatment claim
The home secretary's subsequent attempt to deport Mr Naseer to Pakistan - alleging he was a risk to national security - was blocked at appeal. despite a High Court judge describing him as an "al-Qaeda operative" who "poses a serious threat to the national security of the United Kingdom".
The court ruled there was a risk he would be mistreated if returned to his native Pakistan.
In July 2010, the US said it wanted to put Mr Naseer and four other men on trial over alleged bomb plots, alleging he was operating under the direction of al-Qaeda and was the UK contact in a broad international network.
He denies the allegations. His lawyers had argued his extradition should be halted because the US could later deport him to Pakistan where he could be tortured or killed by Pakistan's secret services.
Following the ruling in Strasbourg - which paves the way for a trial in a federal court in New York - a Home Office spokesperson said: "We welcome the decision by the European Court of Human Rights.
"Abid Naseer had claimed extradition would breach his human rights, but the court ruled this application inadmissible."