Leveson report: Newspaper editors 'back' most proposals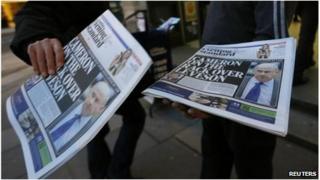 National newspaper editors have met and reportedly agreed to sign up to most of Lord Justice Leveson's recommendations for a new independent press regulator - but not those that need a new law.
They are understood to back 40 of the 47 proposals, including a body with the power to impose fines of up to £1m.
However, they are said to be continuing to oppose the idea that legislation is needed to oversee the new organisation.
The prime minister says he is reluctant to change the law to underpin the body.
According to the Guardian, whose editor Alan Rusbridger attended the meeting, the editors have decided to wait and see what non-statutory proposals Downing Street would come up with for auditing the new regulator.
Speaking on BBC Radio 4's Media Show, Independent editor Chris Blackhurst said they went through Lord Justice Leveson's proposals point by point "and pretty much agreed to them all".
He said suggestions put forward by Cabinet Office Minister Oliver Letwin for a non-statutory oversight body were supported in principle but the details remained "incredibly vague".
Other editors at the talks were said to include The Sun's Dominic Mohan, the Daily Telegraph's Tony Gallagher, Paul Dacre from the Daily Mail, James Harding from The Times, Lloyd Embley, from the Daily Mirror, Sunday Mirror and The People, and Dawn Neesom, of the Star.
Lord Justice Leveson also proposed in his report into press standards and ethics last week that the new press body should also have the power to investigate serious breaches, sanction newspapers and form an arbitration system for people who say they have been victims of press intrusion.
The BBC's media correspondent Torin Douglas said many recommendations for the body, which would replace the current Press Complaints Commission, were similar to those suggested by the newspapers.
But he said the editors now agreed it should be more clearly independent of newspaper publishers than originally proposed, although they continue to reject statutory legislation, as well as involvement by media regulator Ofcom.
The editors, who met with Prime Minister David Cameron at Downing Street on Tuesday, have not yet signed a formal agreement but they are expected to tell ministers they are making good progress, our correspondent added.
Labour and the Liberal Democrats both support statutory underpinning, but the prime minister, many Conservative MPs and parts of the press are against it.
At Prime Minister's Question Time, Mr Cameron said: "I've been encouraged by the meetings I've had with editors of national newspapers that they will put in place Leveson compliant regulation.
"I think we should continue the cross-party talks and make sure we can deliver a regulatory system which this house, this country but above all the victims can be proud of."
The government is drawing up draft legislation to enact the Leveson recommendations but Labour is drafting its own bill in case no agreement can be reached.
Online petition
Culture Secretary Maria Miller, who was also at the Downing Street talks, is involved in discussions with regional newspaper and magazine editors. And the Editors' Code of Practice Committee, which is part of the current system, has met to discuss its response to the report.
Labour leader Ed Miliband said victims of press intrusion he had spoken to wanted to see "more than good intentions" from newspaper editors.
An online petition in favour of statutory underpinning, launched by campaign group Hacked Off and supported by many victims of press intrusion, has now collected more than 141,000 signatures.
Hacked Off says it opposes "an entity with little authority invented by the prime minister and approved by the press".
In Scotland, MSPs have debated press regulation and whether to take a UK-wide approach or create a separate system.