Newspaper review: Papers revel in royal pregnancy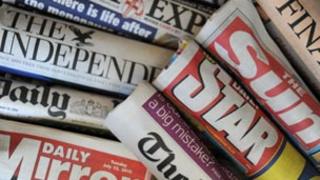 The fronts and much of the inside pages of most of the papers are given over to coverage of the announcement that the Duke and Duchess of Cambridge are expecting their first child.
There is already speculation about a possible name. According to the Times, bookmakers apparently believe the most likely are Mary, Victoria or Frances for a girl - or John, for a boy.
"Nappy and Glorious" runs the headline over two of the Sun's five pages of coverage.
There are seven pages of coverage in the Daily Mirror, where an expert tells the paper he would be "astonished" if Kate and Wills did not call their first-born Diana, if the baby is a girl.
Taxing times
"The bets are on Elizabeth if it's a girl," says the Daily Telegraph, which also speculates that it could be twins.
The Duchess's severe form of morning sickness, it says, often signifies a multiple birth.
The Daily Mail says the couple wanted the news kept secret until Christmas.
There is a lot of speculation about what might be in the Chancellor's Autumn Statement on Wednesday.
Amid the row over the tax paid by global corporations, the Guardian claims the UK is losing about £1.6 billion a year in VAT on digital services bought online.
These are such items as eBooks and music downloads.
The Daily Express says £26.8 billion in fuel duty was gathered in 12 months - almost three times the level in 1991.
The Mail's sketch writer and theatre critic, Quentin Letts, has a bee in his bonnet over demands for no cuts in arts funding.
Arts chiefs, he says, should stop "hamming it up" over "Tory cuts".
Lottery deadline
Some papers report that the Scouts are considering an oath for atheists who want to join, which leaves out God.
The Times says it has learnt that the promise made by Girl Guides to "love God and serve the Queen" is also to be rewritten.
Several papers report the anguish of a mother whose 23-year-old son killed himself after writing a suicide note on the back of a letter from his bank demanding the repayment of a £3,000 overdraft.
According to the Mail, Toby Thorn, from Penzance in Cornwall, had the overdraft in addition to a £5,000 student loan.
The Sun says he incurred extra charges by reaching his overdraft limit. It quotes his mother, Anne, saying: "Young people can't find jobs so they can't see a way out of debt."
The Telegraph reports a frenzy in two Hertfordshire towns where somebody bought a £64 million winning lottery ticket six months ago but has yet to come forward.
The ticket's deadline expires at 11:00 GMT on Wednesday.
Newsagents in Stevenage and nearby Hitchin, say dozens of customers have wrongly believed they might have bought and lost the winning ticket, and sometimes get quite emotional.