News International chief Tom Mockridge to leave company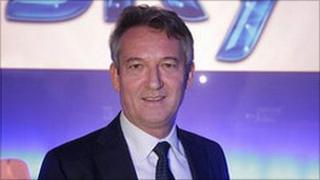 News International chief executive Tom Mockridge is to leave his role at the end of December.
Mr Mockridge, who replaced Rebekah Brooks in July 2011, is stepping down to "pursue outside opportunities", News Corporation announced.
Rupert Murdoch, chairman and chief executive of News Corp, said Mr Mockridge's decision was "absolutely and entirely his own".
BSkyB chief operating officer Mike Darcey will replace Mr Mockridge.
The announcement comes as News Corp plans to split into two businesses, separating its newspaper and book publishing interests from its now dominant TV and film enterprises.
The BBC's media correspondent Torin Douglas said Mr Mockridge was understood to have been passed over in the restructuring.
Robert Thomson, a former editor of the Times and now managing editor of the Wall Street Journal and editor-in-chief of Dow Jones, will head the publishing company, News Corp said.
News International publishes newspapers including the Sun and the Times.
'Steadfast leadership'
In a statement, Mr Murdoch said: "For nearly 22 years it has been my pleasure to have Tom Mockridge as a colleague.
"Whether it was his early days with our newspaper group in Australia, his incredible work building Sky Italia, or his steadfast leadership of News International, Tom has always been a skilled executive and a trusted friend.
"His decision to step down is absolutely and entirely his own. I am sorry to see him leave us but I know he will be a great success wherever he goes."
Mr Mockridge replaced Mrs Brooks last year when she resigned after another News International newspaper, the now closed News of the World, became embroiled in the phone-hacking scandal.
'World-class' replacement
Mr Mockridge was previously in charge of News Corp's Italian broadcasting operation, Sky Italia.
At the time of Mr Mockridge's appointment as News International chief executive, Mr Murdoch praised him as "a highly respected and accomplished media executive", who had shown "leadership and integrity" in creating Sky Italia.
Mr Mockridge, who was born in New Zealand, started his career in newspapers and launched the Sky Italia 24-hour news channel in Italy in 2003.
His replacement, Mr Darcey, has been chief operating officer at BSkyB since 2006.
Mr Murdoch described Mr Darcey as "a world-class executive with unprecedented strategic and commercial experience"
"His broadcasting background will provide important leadership in the development of our already impressive suite of digital products at News International," Mr Murdoch said.
Separately, News Corp announced that it was closing its tablet newspaper The Daily later this month. The product launched in February 2011 for the iPad and there were persistent rumours about the size of losses and possible closure.
"From its launch, The Daily was a bold experiment in digital publishing and an amazing vehicle for innovation," said Mr Murdoch. "Unfortunately, our experience was that we could not find a large enough audience quickly enough to convince us the business model was sustainable in the long-term."