Leveson report: No timetable for draft legislation, says government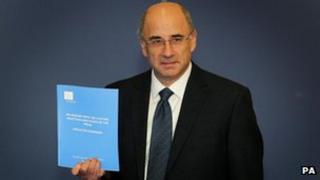 There is no timetable for producing any draft legislation following the Leveson report, Number 10 has said.
A spokesman said the process had only just begun, amid cross-party talks on how to implement Lord Justice Leveson's proposals for press regulation.
The comments come ahead of a Commons debate which is expected to focus on the judge's central call for an independent watchdog backed by law.
His 2,000-page report examined the press's culture, practices and ethics.
MPs will debate its findings in detail in the Commons later, but there will not be a vote on the matter.
Lord Justice Leveson has recommended an independent self-regulatory body for the newspaper industry, backed up by legislation to ensure its independence and effectiveness.
Labour leader Ed Miliband and Lib Dem leader Nick Clegg have voiced their support for the Leveson report to be implemented in its entirety. Labour says it is drafting its own bill in case no agreement can be reached.
But Prime Minister David Cameron has indicated he has "serious concerns and misgivings" about any legislation to regulate the press.
Challenged on Monday over suggestions that the prime minister wants the government's draft bill to be constructed in such a way as to highlight the difficulties of legislation, his official spokesman said: "We are approaching these talks in good faith and we will draft the legislation accordingly.
"The prime minister's view - which he set out in the House of Commons - is that it is likely that legislation will be quite complicated in practice. But we are progressing the work on that, and will continue the talks."
He said the prime minister wanted the newspaper industry to respond "as quickly as possible" to the Leveson report and to come forward with its own proposals for an independent regulator.
The prime minister, Culture Secretary Maria Miller, the Press Complaints Commission chairman Lord Hunt and national newspaper editors will take part in talks on Tuesday.
Lord Hunt said he had spoken to 120 publishers, representing 2,000 editors, and "they have all told me they will sign up" to an independent regulator.
Christmas deadline
Newspapers generally support the idea of a beefed-up independent regulator, but are against it being backed up in law.
Speaking to the BBC on Monday, Mr Miliband warned the prime minister that "this is the moment when our promises are being tested," adding the big test was whether victims of phone hacking - the illegal press practice that sparked the Leveson Inquiry - would be happy with what the government proposed.
A Labour Party source said it was serious about cross-party talks but if the government failed to come up with its own workable bill, it would put its alternative proposal to the Commons for a vote in January.
The source told the BBC Labour's draft bill would "enshrine the core principles of Leveson to establish an independent regulator backed by statute".
Any vote would not be binding on the government.
'A step too far'
Shami Chakrabarti of the civil rights group, Liberty - and who was also an assessor for the inquiry - has welcomed proposals for a new regulator.
But she warned against a suggestion by Lord Justice Leveson that there could be a "statutory backstop regulator" to make it impossible for parts of the industry to "choose not to engage with independent regulation".
"Just to be clear, what I was concerned about and what I said would be a step too far, and possibly in violation of human rights, was the idea that if the press didn't come forward and set up the regulator in compliance with Leveson, that politicians might have to consider compulsory ethical regulation of the press.
"Leveson did not endorse that, he did not recommend that. But he mused that if the press do nothing and don't respond to his report, that might be a last ditch alternative. That's what I'm really opposed to."
Lord Justice Leveson also recommended in his report that a "recognition body" be set up to ensure the new regulator was sufficiently robust - and suggested communications regulator Ofcom be the body.
Speaking to BBC Radio 4's Today programme, Ms Chakrabarti added that she did not want Ofcom in this role.
"I prefer a judicial decision because I wouldn't want the executive to creep into this role in deciding whether self-regulation works," she said.
Campaign group Hacked Off, which represents people who have been victims of press intrusion, is running a petition for Lord Justice Leveson's recommendations to be implemented in full. It has attracted more than 100,000 signatures since Friday.
Hacked Off director Brian Cathcart said: "We hope that the prime minister, who last Thursday appeared to reject a key part of the recommendations, is listening to the voice of the public, just as he promised he would in his evidence under oath at the Leveson Inquiry."
Lord Justice Leveson criticised the "culture of reckless and outrageous journalism" that dominated parts of the press for decades, when he announced the conclusions of his 16-month inquiry, set up in the wake of the phone-hacking scandal.