MoD extends Royal Fleet Auxiliary maintenance contracts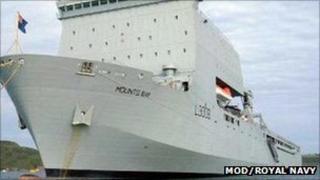 Five contracts to maintain naval support ships have been extended by the Ministry of Defence.
It says the extensions, which are worth a total of about £349m, are likely to safeguard about 800 jobs.
The GMB trade union welcomed the news, saying "shipyard workers are just as important as the armed forces".
The contracts, given to five British companies, cover the maintenance of the 13-strong Royal Fleet Auxiliary (RFA) flotilla of naval support vessels.
The RFA provides support such as fuel and munitions to the Royal Navy at sea.
It is made up of fuel tankers, a medical facility and landing ships.
The contracts were originally allocated in 2008 for an initial period of five years.
Following a review which the MoD says was to ensure value for money, they have now been extended for a further five years.
The companies involved include Cammell A&P Group Ltd - a ship repair facility in Falmouth - and Lloyds Register, which is based in Bristol.
The three others are Cammell Laird Ship Repairers and Shipbuilders Ltd, based in Birkenhead, Southampton-based Trimline Ltd and Hempel UK Ltd, which is in Cwmbran, south Wales.
Defence minister Philip Dunne said the RFA ships were "crucial to the work of the Royal Navy", adding that "without them it simply could not operate".
"These substantial contracts will not only safeguard hundreds of UK jobs but will ensure that these ships can continue in their roles for years to come," he said.
Meanwhile, David Hulse, of the GMB trade union, said: "This is welcome news in these bleak times.
"GMB maintains that the shipyard workers are just as important as the armed forces to our nation's defences, which is why it is crucial that the MoD plan procurement to ensure capacity and skills."