Which? says millions 'struggling' financially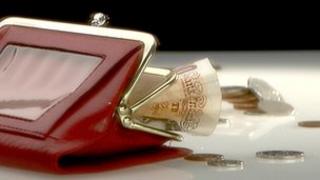 Millions of households are struggling to make ends meet, consumer organisation Which? has claimed.
Its research, based on a poll of 2,100 people in October, suggests nearly 10% of households have defaulted on a loan, bill or housing payment.
Some 32% of people surveyed say they are finding it difficult to cope on their current level of income.
It comes as Chancellor George Osborne concludes work on the Autumn Statement, to be delivered on Wednesday.
BBC political correspondent Iain Watson says the Statement is a Budget by any other name and some tax rises for the wealthy and cuts in welfare are widely expected.
It found that 2.3 million households had defaulted on a loan, bill or housing payment.
And 1.5 million households had taken out one or more unauthorised overdrafts or payday loans just to make ends meet.
The Executive Director of Which?, Richard Lloyd, argues that people can become trapped in a vicious spiral.
He said: "There are huge knock-on effects for people if they are not paying their loans, paying their bills, their housing costs on time. They often have to pay extra charges, pay extra interest where they are defaulting on debts, and they are unable to get access to credit.
"People are having to turn to increasingly expensive ways to meet their costs. It's a real worry for many, many people getting in to debt."
Mr Lloyd says the government "has a job on its hands to convince people that everything possible is being done to keep unavoidable costs like energy and food bills under control".
"We're looking for further progress in reforming the energy market, an end to misleading food price promotions, and more competition in banking to take some of the pressure off hard-pressed consumers," he said.
It comes as the chancellor acknowledged that deficit reduction may take longer than he had planned.
He has called for people to "have the courage to stay the course" amid suggestions that the better-off could be required to contribute more.
However, Labour's shadow chancellor, Ed Balls, said it was time to "change the medicine - or change the doctor".
Which? researchers asked participants if they had experienced a range of financial difficulties in the previous month
Respondents were classified according to the most severe difficulty they said they had experienced.