Fracking firm ready to press on with extraction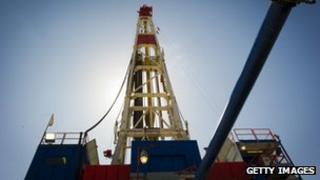 The head of a company involved in fracking has said it is ready to press on quickly with production if a UK ban on the technique is lifted.
Cuadrilla Resources chief executive Francis Egan told the Sunday Telegraph that the development of gas resources in the UK was an economic necessity.
A government review has concluded that fracking - extracting shale gas - is safe if adequately monitored.
Mr Egan warned his company may "walk away" if the ban is not lifted soon.
Fracking is a controversial process that involves pumping water and chemicals into shale rock at high pressure to extract gas.
'New industry'
It was temporarily banned in the UK after it was blamed for two earth tremors in Blackpool in 2011.
Cuadrilla has four exploration drilling sites in Lancashire - three on the Fylde at Westby, Singleton and Weeton and one at Banks in West Lancashire.
Mr Egan said Cuadrilla believed it could be producing shale gas in the UK by March next year. However, the firm stressed that this would be a test process and not full production.
"We are starting a whole new onshore gas industry. In our licence alone we can supply a quarter of the UK's gas demand," he said.
Fracking is widely used in the US and supporters of the process have said it could have significant benefits for energy policy in the UK.
It has been reported that Energy Secretary Ed Davey will soon end the moratorium on the process, while Chancellor George Osborne has said he is considering tax incentives for the industry.
It is believed he may provide further details in his Autumn Statement on Wednesday.
'Patience not infinite'
But Mr Egan indicated that his company was not prepared to wait for ever for the go-ahead.
"Britain is spending tens of billions of pounds importing gas," he said, adding: "We have proven that there is [shale] gas and that it will flow.
"In the three years we have been doing tests, they have drilled 60,000 wells in the US. We don't have infinite patience and our investors don't have infinite patience."
On Saturday, the Department of Energy and Climate Change dismissed an Independent report that said 60% of the UK countryside could be used for fracking, describing the figure as "nonsense".
Opponents have said fracking is a dangerous process that threatens to pollute water supplies.
About 300 people held an anti-fracking protest outside Parliament on Saturday.