Newspaper review: Papers cast front-page net wide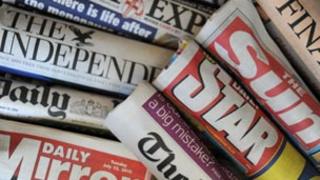 The papers run a myriad of different front-page stories - if there is a theme it is immigrants and housing.
The Financial Times says wealthy migrants are flocking to the UK, in part because they find London property such an attractive asset.
The paper says the number of wealthy migrants, coming on visas designed to attract millionaire investors, jumped by more than three-quarters last year.
Many are from China and Russia.
New homes
Less wealthy immigrants have housing demands of their own.
The Daily Mail says vast swathes of the countryside will have to be sacrificed to build new homes to accommodate them.
It quotes Planning Minister Nick Boles saying "we can't go on like this".
Anyone with a home, or planning to move, can take some cheer from the lead in the Daily Telegraph.
It says rates on popular mortgage loans have fallen by a third since the summer as it trumpets a new two-year fixed rate mortgage on offer at just under 2%.
It is, the paper says, the first home-loan price war since the credit crisis of 2008.
The "politically homeless" have found new shelter in UKIP, according to one political commentator.
That is the view of Professor Anthony King, writing in the Mail.
Protest votes
Reflecting on the party's second place ranking in two by-elections, he says voters do not see them as an independent party but as "a kind of Conservative outhouse".
The Guardian picks up the theme, saying that UKIP is now the "protest vote of choice for Tory voters".
The Duchess of Cambridge had a homecoming of sorts, as she returned to her old school in Pangbourne, Berkshire.
Despite donning high-heeled boots she could not resist lifting a hockey stick - thereby securing her picture on the front page of the Telegraph, Mirror and Express and much coverage elsewhere.
The duchess revealed that as a schoolgirl she was also known as Squeak, having adopted the name of her guinea pig.
Lorraine Kelly, in the Sun, tells us there is "feverish speculation" about whether or not Kate might be pregnant.
The columnist offers the opinion that the duchess would make a good mother.
Fewer acts
The Guardian tells us several countries are staying at home and calling in sick for the Eurovision Song Contest.
For Portugal and Poland - and possibly Greece and Cyprus - it is an expense they cannot afford.
Who better to comment on this than the former MEP and ex-Eurovision contestant, Nana Mouskouri.
She says "it's a great shame, very sad".
The Guardian does add that fewer acts may not be such a bad thing, pointing out that the contest is "painfully long".