Leveson: Lord Hunt calls for press regulator within months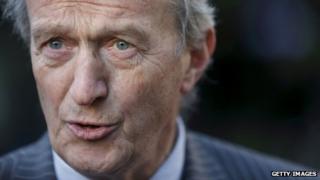 The Press Complaints Commission should be replaced by another organisation within months, its chairman has said.
Lord Hunt is urging senior figures in the newspaper industry to accept a more independent self-regulatory body, as recommended by Lord Justice Leveson.
Newspaper editors will meet Culture Secretary Maria Miller on Tuesday to discuss the Leveson report, which said the body should be backed up by law.
Downing Street has confirmed that the prime minister will be at that meeting.
The report said a body proposed by the press was insufficiently independent.
The recommendation made by Lord Justice Leveson for the new model of regulation to be underpinned by law has largely been rejected by newspapers.
Mrs Miller says the "gauntlet has been thrown down" to papers to demonstrate how they could regulate themselves without legislation.
Lord Hunt told the Times newspaper he is urging the industry to accept the principles recommended by Lord Justice Leveson for an independent self-regulatory body.
The PCC chairman, who will attend Tuesday's meeting, said he wanted the new regulator in place by the end of June at the latest, to try to help persuade people there was no need for the statutory underpinning put forward.
He argues that the industry needs to go further than the changes suggested by Lord Justice Leveson and has suggested a new body whose members are appointed by an independent panel.
'More Levesonian'
Victims of press intrusion - the latest to add her voice being author JK Rowling - have urged the government to implement the Leveson Inquiry's recommendations in full.
The Leveson report has exposed divisions in the coalition government, with Prime Minister David Cameron opposing statutory control, while his deputy, Nick Clegg, wants a new law introduced without delay. Labour leader Ed Miliband also supports a new press law.
BBC political correspondent Ross Hawkins says the government would like to see the newspapers draw up something more "Levesonian" than their original proposal for self-regulation put together by Lord Hunt and Lord Black of Brentwood, Executive Director of the Telegraph Media Group .
Meanwhile, Paul Staines, editor of the Guido Fawkes political blog, has spoken on BBC Radio 4's Today programme of the problems involved in attempting press regulation, against the backdrop of the internet.
"I don't think you can regulate the internet because it is called the world wide web for a reason. You can access it from anywhere and it can be based anywhere," he said.
His blog is based in the US, where the First Amendment to the Constitution protects the freedom of the press, and he says it would be difficult to take action against him.
"I based mine offshore because of the ruinous libel law system we have here," he said.
Many newspapers have praised Mr Cameron's opposition to law-backed regulation of the press, but a Daily Telegraph editorial published online said Lord Justice Leveson was right to say the press could no longer "mark its own homework".
It said: "While adopting many of the ideas for an improved regulator put forward by Lords Hunt and Black, Sir Brian [Leveson] insists that the press should not be able to 'mark its own homework' by controlling the new body.
"He is right - the new regulator should largely conform to the format outlined in the report, in terms of its structure, its independence from Fleet Street, and its powers to impose discipline."
An industry source told the BBC that newspapers were keen to meet the challenge of showing how they could regulate themselves without legislation, but added: "It's clear from pressure from Labour and Lib Dems that time isn't on our side."
Our correspondent understands there will be further disclosures from the newspaper industry over the weekend designed to demonstrate a sense of direction and unity ahead of a Commons debate on Monday.
He adds: "None of this addresses the central political problem of whether there should be the new law that Lord Justice Leveson deemed essential but that newspapers reject."
Lord Justice Leveson's 2,000 page report into press culture, practices and ethics, published on Thursday, followed an eight-month public inquiry launched in the wake of the phone-hacking scandal.
The report said that some press behaviour had been "outrageous" and "wreaked havoc with the lives of innocent people".
Lord Justice Leveson said the press - having failed to regulate itself in the past - must create a new and tough regulator but it had to be backed by legislation to ensure it was effective.
'Alarmed and dismayed'
On Friday, inquiry witnesses Gerry McCann and Christopher Jeffries launched an online petition, run by campaign group Hacked Off, to get the Leveson findings implemented in full.
Mr McCann said: "Clearly the public want it, there's been a judicial review and I think the recommendations should be implemented. There's no good reason why they shouldn't be."
Mr Jeffries said: "Certainly I think it [Mr Cameron's decision] has been influenced by the pressure he has received from newspaper proprietors and editors and by some MPs in his own party."
By Friday night the petition had been signed by more than 50,000 people.
Author JK Rowling said she was "alarmed and dismayed" at Mr Cameron's reaction to the report.
"Without statutory underpinning, Leveson's recommendations will not work. We will be left with yet another voluntary system from which the press can walk away," she said.
"If the prime minister did not wish to change the regulatory system even to the moderate, balanced and proportionate extent proposed by Lord Justice Leveson, I am at a loss to understand why so much public money has been spent and why so many people have been asked to re-live extremely painful episodes on the stand, in front of millions."
Hacked Off said victims had refused to meet the culture secretary because they felt "too let down" by the prime minister.
Following cross-party talks on Thursday night - which will resume next week - the Department for Culture, Media and Sport will begin the process of drawing up a draft bill implementing the Leveson recommendations.
Ministers said a draft bill would be ready in a fortnight.