Ten Britons arrested in Spain over 'boiler room fraud'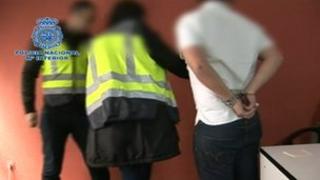 Ten Britons are among 22 people arrested in Spain during an investigation into an alleged 8m euro (£6.5m) "boiler room fraud".
More than 200 members of the UK public were persuaded to put their savings into non-existent shares, police said.
The arrests were carried out by the Spanish police, supported by the UK's Serious Organised Crime Agency (Soca) and the City of London Police.
Four guns, ammunition and 367,000 euros were also seized, police said.
Boiler room scams are estimated to cost the UK about £200m a year.
The 22 people were arrested on 6 November but the news has only emerged now, after a Spanish judge lifted a blanket ban on publicity.
All 22 people - who have not been named by the Spanish police - have been charged with being part of an organised crime group, as well as with fraud offences. Five of the British nationals were remanded in custody and the others were released on bail.
Soca said several addresses in Barcelona and other parts of Catalonia were searched and police found seven false British passports and numerous computers, hard drives, USB sticks and mobile phones, all of which need to be scrutinised by detectives.
'Sophisticated'
They also found lists of target clients and "manuals on how to get people to part with their money".
Soca's Head of Operations in Europe, Ian Milne, said: "We believe this organised crime group was running a sophisticated and complex boiler room fraud.
"Shutting it down has put a stop to more members of the public being duped into parting with their hard earned cash."
Detective Superintendent Tony Crampton, from City of London Police, said: "Investment fraud is all too often a crime created abroad to target people back here in the UK, with the vulnerable members of society being most at risk.
"This successful operation in Spain provides further evidence of how these partnerships are now delivering the sort of results that should make organised crime gangs think twice before starting their criminal enterprise."