Detainees 'risk ill treatment in Afghan custody'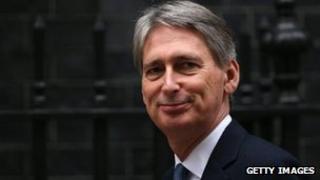 Detainees captured by UK forces in Afghanistan cannot currently be transferred to Afghan custody because of the risk of ill treatment, the defence secretary has said.
Philip Hammond has imposed a temporary ban on handing over suspects to Afghan forces, a High Court judge was told.
Lawyers want the court to say there is a risk that prisoners are in danger.
The application has been brought on behalf of Serdar Mohammed, who claims he was tortured in an Afghan jail.
The 24-year-old Afghan farmer said he was arrested by UK forces in April 2010 in the Kajaki district of Helmand Province.
He claimed he falsely confessed to being a member of the Taliban under torture while held at the Afghan National Directorate of Security (NDS) facility at Lashkar Gah.
Mr Mohammed's legal representative, Dinah Rose QC, told Lord Justice Moses in the High Court that a letter had been received from Mr Hammond stating that there were "reasonable grounds" to suspect human rights abuses were taking place.
It said: "In the light of new information which has not been disclosed or described, there are currently reasonable grounds for believing that UK-captured detainees who are transferred to Lashkar Gah would be at real risk of serious mistreatment."
Ms Rose said the defence secretary had decided to impose "a complete moratorium", a temporary ban, on transfers to any NDS prison.
'Legal obligations'
Mr Hammond was due to oppose the application for the court declaration, but the minister's letter stated that he would not be contending in court that UK-captured detainees could be lawfully transferred to NDS custody at present.
James Eadie QC, representing the defence secretary, denied Mr Hammond had made a concession and said he had simply been applying his policy of keeping under review whether there was a real risk to detainees being transferred.
Mr Eadie said when new information had come to light of a potential risk Mr Hammond had acted accordingly and reintroduced a moratorium.
A Ministry of Defence spokesman said: "Detention operations are an important part of our work in Afghanistan - helping to protect UK service personnel, our allies and Afghan civilians.
"The UK takes its legal and policy obligations to detainees captured by UK forces very seriously and does not transfer detainees to any facility where there is a real risk of mistreatment.
"In light of new information, the secretary of state has decided to reintroduce a ban on transfers into Afghan custody while we review the risks of mistreatment.
"Measures are being put in place to ensure our operational effectiveness is not compromised."
The MoD said it would continue to defend all other aspects of the Serdar Mohammed judicial review claim.
Reprieve's Legal Director Kat Craig said: "Until today the government has maintained its position that it was safe to transfer prisoners to Afghan custody.
"It was only through this hard fought case, that it became clear that there was a real risk of torture on transfer to the Afghan intelligence services.
"Cases such as these, where evidence is not concealed by secret courts, are crucial to ensuring state accountability."