Newspaper review: Leveson 'landmark' previewed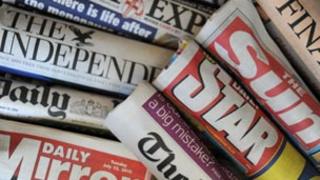 The Guardian says the publication of the Leveson report into press ethics equates to a landmark day for politicians, the media and the police.
Questions remain over whether it could lead to statutory press regulation.
The Times is among papers saying Deputy PM Nick Clegg, who is in favour, is on a collision course with David Cameron.
The Financial Times warns that, if regulation is mishandled by David Cameron, there could be a return to the days of state licensing of the press.
Alternative strategy?
The Daily Telegraph rejects Planning Minister Nick Boles' idea that a housing crisis could be solved by building more on open land.
It says there is enough undeveloped urban land for 1.5m new homes.
The Daily Mail asks if Mr Boles has considered an alternative to destroying the countryside in south-east England.
Ministers might produce an economic strategy that encourages people to work in those parts of the country that are much less populated, it suggests.
Devastated daughter
The Daily Express reports on a "cruel" stunt on ITV1's I'm a Celebrity... Get Me Out of Here! involving the seven-year-old daughter of EastEnders actress Charlie Brooks.
Kiki Brooks hid behind one of a number of doors while campmates chose which ones to open to try to find treats.
The Sun says the girl was "devastated" when Brooks chose the wrong door and the pair were not reunited.
The Daily Mail asks: "Is this the show's cruellest stunt ever?"
Deep freeze
As communities across the country clear up after the heavy rainfall, many papers warn that Arctic conditions are on the way.
"Big flood... now deep freeze," says the Daily Star.
According to the Daily Express, the freezing temperatures and snow are likely to last until February.
The Daily Mirror says Britain faces a battering from blizzards and that temperatures will plunge to the lowest for a hundred years.