Leveson report: Clegg to make separate statement to MPs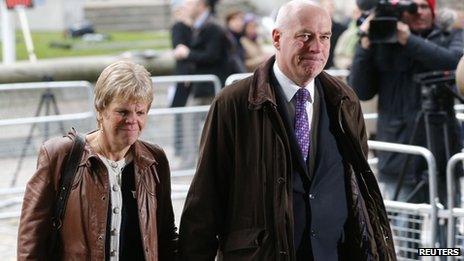 The deputy prime minister is to make his own statement in the Commons on the Leveson report after reportedly failing to agree a united government response with David Cameron on press regulation.
Lib Dem aides say Nick Clegg's decision does not represent "a massive split or disagreement" within the coalition.
Lord Justice Leveson's report into the culture, practice and ethics of the press will be published at 13:30 GMT.
His inquiry heard from politicians, press and media intrusion victims.
They included the actor Hugh Grant, singer Charlotte Church and the family of murdered teenager Milly Dowler.
Milly's parents, Bob and Sally Dowler, and Mr Grant arrived at the QEII Conference Centre in central London, where copies of the report are being made available to inquiry participants before its official publication.
It is understood the report, which is said to run to about 2,000 pages, criticises press, politicians and police.
On Wednesday, Mr Cameron and Mr Clegg were given advance copies.
The prime minister and his deputy met twice ahead of the report's publication in an effort to agree on a unified government statement to Lord Justice Leveson's recommendations.
However, the BBC's political editor Nick Robinson says, according to sources, the two men will agree on some things but both will refer to the areas on which they disagree when they speak in the Commons.
It will the first time since the coalition was formed in May 2010 that MPs will hear two different views from the government.
A Downing Street spokeswoman confirmed Mr Cameron would be making a statement in his role as prime minister while Lib Dem leader Mr Clegg would be speaking in his capacity as deputy prime minister.
The prime minister's statement to the Commons will be directly followed by a response from Labour leader Ed Miliband, who received his own copy of the Leveson report in the morning.
MPs will then have a chance to debate the PM's statement before Mr Clegg addresses them and Labour's deputy leader and shadow culture secretary, Harriet Harman, will then respond to the DPM.
Claims that News of the World journalists had hacked the voicemail of Milly Dowler led to the closure of the Sunday tabloid and prompted Mr Cameron to set up the inquiry.
Lord Justice Leveson is widely expected to recommend some form of statutory press regulation overseen by an independent body.
Many Conservatives oppose the possibility of statutory regulation while Liberal Democrats are understood to be ready to support such a move.
The press is currently self-regulated through the Press Complaints Commission (PCC).
The BBC's political editor said everyone was seeking independent regulation but the question was what that meant and whether a new law was needed to establish it and make sure all newspapers took part.
Deciding the way forward was one of the most difficult decisions the prime minister would face, Nick Robinson added.
Mr Cameron, who previously said he intended to implement the inquiry findings provided they were not "bonkers", told MPs at Prime Minister's Questions on Wednesday he wanted to find a cross-party consensus on improving regulation and moving away from the "unacceptable" status quo.
He said he wanted an "independent regulatory system that can deliver and in which the public have confidence".
Mr Miliband responded: "I hope we can work on an all-party basis. This is a once-in-a-generation opportunity for real change and I hope that this House can make it happen."
Speaking as he left his home ahead of the report's publication, Mr Clegg said politicians would have to strike a balance in their response.
"Everybody wants two things... a strong, independent, raucous press, who can hold people in positions of power to account and, secondly, to protect ordinary people, the vulnerable, the innocents when the press overstep the mark."
Bristol landlord Chris Jefferies, who was wrongly arrested for the murder of Joanna Yeates in 2010 and won damages from a number of newspapers over their reports, said his experience had been "absolutely devastating".
He told BBC Radio 4's Today programme he wanted an independent regulator, with investigative powers established by statute with the "powers to discipline those parts of the press which contravene the codes".
But former Press Complaints Commission member and Daily Mail journalist Paul Horrocks said while tighter regulation was essential "what we don't want is that toughening up to be in some kind of law... because that then really threatens the freedom of the press".
Meanwhile, a poll conducted for BBC Radio 5 live suggests that two-thirds of British adults have no trust - or little trust - that newspapers tell the truth.
Just over 1,000 people were questioned on the telephone by ComRes last weekend, with nearly a half also saying they wanted to see the press regulated by rules agreed and enforced by the courts.
Related Internet Links
The BBC is not responsible for the content of external sites.