SAS man Danny Nightingale challenges gun conviction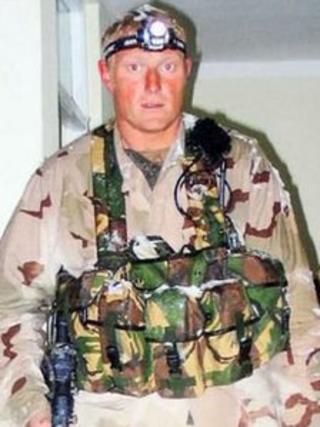 An SAS soldier sentenced to 18 months' military detention for possessing a Glock pistol which he says was given as a present in Iraq is to have his case heard by the Court of Appeal later.
Lawyers for Sgt Danny Nightingale say he did not pack the gun and, because of a brain injury, forgot he had it.
They will argue the sentence is too long and say a hearing to review the conviction will be held in the future.
His wife, Sally, has led a high-profile campaign calling for his release.
Nightingale, 37, from Crewe, Cheshire, pleaded guilty at a court martial earlier this month to illegally possessing the 9mm Glock pistol and ammunition, which were found by West Mercia Police at his Army accommodation near Hereford.
The father-of-two was sentenced to serve 18 months at the Military Corrective Training Centre in Colchester, Essex.
Before the appeal was granted, Defence Secretary Philip Hammond asked Attorney General Dominic Grieve to review the case.
Although Mr Grieve replied quickly, saying it was "inappropriate for him to intervene", Thursday afternoon's proceedings - which will be heard by judges including Lord Chief Justice, Lord Judge - come just a week after the appeal was lodged.
'Badly let down'
After appealing against the sentence, his lawyers say they will also be appealing against the conviction.
Nightingale's family and friends say he only pleaded guilty after being warned by a court martial judge he could face up to five years' detention if found guilty in a trial.
His lawyers argue the guilty plea was "not a true reflection of the level of criminal culpability".
A petition calling on Mr Hammond to take action to release the soldier has received more than 100,000 signatures.
The soldier's father, Humphrey Nightingale, said the family had not expected the first appeal to be heard so soon, but were "very thankful" that it was.
He added: "We're hoping that we will get justice this afternoon but we're not raising our hopes too much because we've been so badly let down by the military courts."