News Group ordered to pay Andy Coulson's legal costs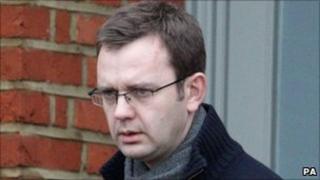 Former News of the World editor Andy Coulson has won an appeal against a ruling that News Group Newspapers do not have to pay his legal costs.
Mr Coulson is facing trial next year on charges stemming from his alleged involvement in phone-hacking at the News of the World (NoW).
He edited the paper between 2003 and 2007 and later become the Conservative Party's communications director.
Mr Coulson, 44, has also been accused of making payments to police.
He has always denied any allegations of wrongdoing.
Mr Coulson became Downing Street director of communications in 2010 but resigned the following year, saying coverage of the scandal was making it impossible for him to do his job.
Last year the High Court ruled his former employer, News Group Newspapers (NGN), was not liable for his legal costs.
It is not known how much Mr Coulson's legal costs amount to but it is believed to be a substantial sum.
'Costs and expenses'
Mr Coulson had sued NGN seeking a declaration that they "must pay the professional costs and expenses properly incurred" by him "in defending allegations of criminal conduct" during his tenure.
NGN stopped paying his legal costs in August 2011.
Lord Justice Laws, Lord Justice Sullivan and Lord Justice McCombe, sitting at the Court of Appeal in London, allowed his appeal.
NGN have not yet indicated whether they will make a further appeal to the UK Supreme Court.
NGN had argued a clause in Mr Coulson's contract covered the "occupational hazards of being an editor" and not alleged criminality.
The company claimed that if there was an obligation, it would be at the conclusion of the criminal proceedings and not before.
But earlier this month three Appeal Court judges agreed to hear an application by Mr Coulson's lawyers to admit fresh evidence relating to the criminal investigation.
This included material in the press, which NGN would neither confirm nor deny, that Rebekah Brooks and some Sun employees had been indemnified in respect of some criminal proceedings and did not have to wait until the end of the case to be recompensed.
The High Court case involves a clause in a contract, dated 26 February 2007, which Mr Coulson and NGN agreed to when he left the company.
Lord Justice McCombe, giving the unanimous ruling of the court, said Mr Coulson was saying NGN should "pay his reasonable legal costs properly incurred in all types of proceedings, including criminal proceedings, concerning his conduct as editor of the NoW".
The judge said he was "satisfied" the clause did cover Mr Coulson's "costs and expenses of defending the criminal allegations".
In his ruling he said: "I cannot accept the (High Court) judge's view that because Mr Coulson's duties as editor comprised only lawful duties, it cannot have been intended that activities outside his lawful responsibilities would be covered by the indemnity.
"That would surely deprive the indemnity of all practical use. It would not even cover the editor for the costs of defending proceedings arising out of the publications of alleged libels or publications said to constitute a contempt of court, the very occupational hazards of editorship referred to by Mr (News Group's lawyer Christopher) Jeans in argument."