Newspaper review: Flood rescue efforts highlighted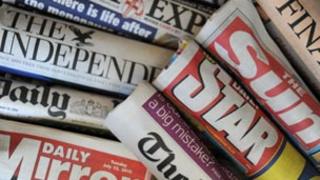 The front of the Daily Telegraph is dominated by a picture of a lifeboat crew in a dinghy rescuing a woman in flooded St Asaph, north Wales.
The Times has a front page picture of floodwaters threatening a pub in York.
The Independent reports anger against developers building on vulnerable sites without paying for flood defences.
Meanwhile, the paper quotes Planning Minister Nick Boles who says there must be more building on open land to tackle the UK's housing shortage.
Backlash warning
Ahead of the Leveson report, the Financial Times says the PM is considering giving papers "one last chance" to prove they can be regulated effectively without new legislation.
It would mean taking on Lib Dem partners, Labour and dozens of Tory MPs, the FT says.
The Guardian carries a YouGov opinion poll suggesting David Cameron would also face a public backlash.
It suggests 79% of people want to legislate for an independent regulator.
Official recognition
The Daily Mirror condemns the repeated failure of prosecutors to take action against the late Liberal MP, Sir Cyril Smith, over allegations of abusing boys in care in the 1960s.
The Guardian says a police announcement about overwhelming evidence is official recognition that he had died without answering for his alleged crimes.
The Daily Mail says it will bring some relief to his victims.
One says he should be stripped of his knighthood and MBE.
1970s throwback
The Duchess of Cambridge is shown with a new hairstyle on some front pages.
As the Daily Express puts it, she was a "beauty among the beasts" when she opened a new gallery at the Natural History Museum in London.
The Daily Mail is not alone in saying her fringe and flowing locks were a throwback to the 1970s look of the hit TV series Charlie's Angels.
The Sun says she looked as good as new despite wearing a green dress first seen at Buckingham Palace a year ago.