Iranian avoids extradition to US for arms smuggling trial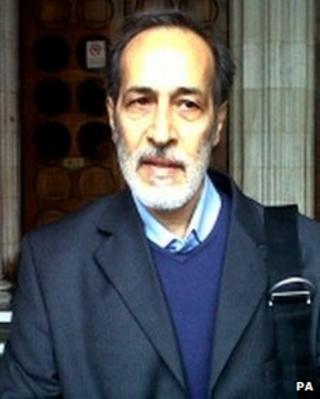 A former Iranian diplomat has won a High Court battle to avoid extradition to the US.
Nosratollah Tajik, 59, who has been living in London subject to a curfew, was arrested in 2006 for allegedly conspiring to smuggle arms to Iran.
Lord Justice Moses ruled that Mr Tajik "has escaped extradition" because of a failure to "show reasonable cause" for delays in the long-running case.
The UK and US governments have 14 days if they want to lodge an appeal.
Six years ago Mr Tajik, a former Iranian ambassador to Jordan, was arrested after agents from the US Department of Homeland Security pretended to be co-conspirators wanting to export US defence night-vision weapons sights to Iran without a licence.
'Brave decision'
At the time he was living in Coxhoe, County Durham; he is now living in London and is subject to a night-time curfew and must wear an electronic tag.
After Tuesday's ruling, he said the extradition moves against him were "politically motivated" and the High Court judges had made "a brave decision".
He said he had effectively been "a hostage" embroiled in legal proceedings that had seriously affected his family and led to a deterioration in his health.
There have been long and controversial delays in the extradition process amid fears that sending Mr Tajik to the US for trial could cause further diplomatic problems between the UK and Iran and create a "real threat" to staff at the British embassy in Tehran.
The High Court heard at a hearing last month that the US government was asked in 2009 whether it wished to proceed with the extradition request.
Alun Jones QC, representing Mr Tajik, said the US waited two years - between 2009 and 2011 - before it responded.
Mr Tajik's removal would now be "oppressive", said Mr Jones, adding that his heart and other health problems made it unlikely he would survive the rigours of the US judicial system and a possible 10-year jail sentence.
Hugo Keith QC, appearing for the home secretary, said the delays had occurred because ministers wanted to see if the US government wished to withdraw its request, adding that there was a "real and immediate threat to UK embassy personnel in Tehran" if extradition went ahead.
'No justification'
Despite the long delays, the US did not withdraw its extradition request, and the current home secretary, Theresa May, ordered extradition after deciding that Mr Tajik's medical condition was not a limiting factor.
However, Lord Justice Moses ruled that the court had to consider whether the delays were reasonable.
"It is not open either to the UK or to the requesting country (the USA) to extradite at a time of their own choosing without offering, for the judgment of the court, its justification for the delay in surrender.
"Extradition must take place according to the terms of the statute (2003 Extradition Act)."
The judge said the US had failed to justify the delays that had occurred.
"It has advanced no justification for choosing to reply to the UK's request in August 2011 and not much earlier - in 2009 or 2010."