The Royal British Legion: Turmoil in the charity's ranks over restructure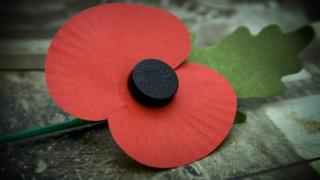 The Royal British Legion is spending over £9m on the biggest restructuring in its history - a move deemed unnecessary by some former managers. So can the iconic charity undergo radical change and remain faithful to its founding principles?
In a park in central London I meet two former soldiers.
At 18 years old, John went to fight in Afghanistan, where his unit came under hostile fire almost every day of their tour.
With him is his friend, 46-year-old Sean. He served in Northern Ireland and Bosnia.
They are both now homeless and living in a hostel. Neither blame their time in the military for their situation, and are now getting training and support to find jobs and get their own accommodation.
But neither have received any direct help from The Royal British Legion (RBL).
John says he has tried to contact the charity: "Many-a-time I've phoned the British Legion [and] to be honest it went through to an answer phone.
"I've not had any help whatsoever from the Royal British Legion. Nothing," he says, speaking to Radio 4's The Report.
"You know, it's one of those things, I still buy my poppy and the money goes towards the British Legion, but as a veteran, I've not seen this money getting used."
Sean says it never crossed his mind to even trying contacting the Legion for help:
"People that I know that have been in the military and come out, I've never heard any of them say 'we were helped by the Royal British Legion to get this, get that, to do this, to do that'."
A new era
According to its accounts the RBL spent £139m in 2011. It runs care homes and lobbies the government, delivers welfare and organises the UK's annual acts of remembrance.
Founded in 1921 to help those who survived the horrors of World War I, it is now having to adapt to the needs of the generation that fought in Afghanistan and Iraq.
Today there are more than five million veterans and at least another four million family members eligible for help - and as a result the RBL has begun a radical plan to restructure.
Under the old system veterans could approach their local RBL office for a small amount of money - in the form of a grant - to buy, for example, a new hearing aid or a mobility scooter.
The Legion's accounts show the number of such grants awarded has gone down from 40,423 in 2007 to 22,829 in 2011. The amount of money paid out in grants has also gone down - from £24m to £18m a year.
Director general of the RBL Chris Simpkins says the old grant system had to change:
"We must do evidence-based practice. It's no longer 'this seems like a good idea, let's throw money at it'.
"We've shifted that investment into personal care and support for individuals - helping, hand-holding, mentoring, guiding, supporting - rather than saying 'here's a cheque to pay off your rent arrears'.
The RBL says it made 165,000 case work interventions last year, but the BBC programme The Report has spoken to 10 former county office managers who say they have lost confidence in the charity's leadership.
They claim the new system is bureaucratic, unnecessary and diverts money from those who need it most.
Retired Army Major Craig Treeby was the RBL's county manager in Oxfordshire and Buckinghamshire. He left the RBL in 2010, but still approaches the charity to get help for veterans.
"One of the first cases I had to pick up was an amputee soldier who'd lost his leg, who needed some help.
"There were the posters being put up at remembrance time of a soldier with a prosthetic leg. He could have been my guy.
"So I went to them and said 'look, this chap actually needs some help in order to further his career, although he's still serving' - and that was rejected."
This is because the soldier concerned was still serving, and being paid a corporal's wage - which exceeds the RBL's criteria.
"I was totally dumbfounded and frustrated," Mr Treeby says.
Limited resources
The latest RBL guidelines state that anyone receiving means-tested benefits qualifies for a RBL grant, but veterans with savings of more than £11,000 do not. A single man earning £10,600 a year or more, and a couple with two children on an income of just over £16,000, will not be eligible either.
Craig Treeby is horrified by the new plans.
"It blazons itself in these great posters 'shoulder to shoulder' - their banner headline - but there's a lie behind it… shoulder to shoulder it is not!"
The RBL's director general Chris Simpkins rejects this criticism, saying "it must be surely correct, where resources are limited that we direct them to those that are most in need."
So where is the Legion directing its money? A week ago it opened the Battle Back Centre in Shropshire - a rehabilitation facility helping wounded and sick servicemen and women through sport.
Over the next 10 years, the RBL is putting a total of £50m into the new centre and five more personnel recovery centres - it also runs six care homes.
But it is also planning to spend several million pounds on the biggest structural and philosophical change in its history - a project titled Pathway for Growth, which will cost more than £9m to implement.
It includes new systems, new offices and staff redundancies. Most of the former county managers have lost their jobs, or retired - and this is where many of the tensions lie.
Retired Lt Col Martin McAleese worked for six years as the Legion's county manager in Worcestershire, and still works for the charity in another role.
He says the old system was not perfect, but it worked - and he fears the new one will become less effective because of a new layer of management.
"It looks like there may be secondary offices of an unknown quantity in the county, so people will have to go to an area manager, who will have to go to a regional manager, who will have to go to HQ. It's just too much."
But could this improve the delivery of help to former servicemen and women?
"Absolutely not," he replies.
'Die like dinosaurs'
The Report spoke to two of the new area managers who insist the changes will enable them to help more people.
The programme also obtained documents outlining plans for new RBL offices to be built in at least 16 locations across the UK, with a proposed cost of £5.8m over the next 10 years.
Retired RAF Group Captain Nigel Pearson resigned as president of the RBL's Shropshire branch six days before Remembrance Sunday this year, in protest at this new direction, saying the plans are "crazy".
"This is a charity, and I don't believe this is acceptable for a charity to spend its money in this way - and I would have thought that the public would find this abhorrent."
The RBL insists the plans for the offices are just concepts and director general Chris Simpkins strongly defends the changes outlined in the Pathway for Growth plan:
"If we carried on doing what we were doing last year, last month, 10 years ago, we would wither and die like the dinosaurs.
"We can't afford to do that. Because the only people who will be harmed out of that are our beneficiaries."
Hear more on The Report on BBC Radio 4 on Thursday, 29 November at 20:00 GMT.
Listen again via the Radio 4 website or The Report podcast.