Newspaper review: Mark Carney move applauded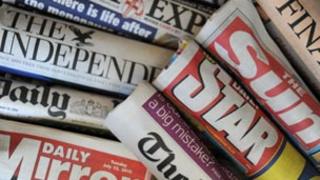 Many papers join the applause greeting Chancellor George Osborne's choice for the new Bank of England governor.
The Financial Times says that, "in a field in which experience was a key criterion, Mark Carney was an outstanding candidate".
The Sun says hiring a Canadian is "a devastating judgement on the city".
The Times says it made a mistake by stating Paul Tucker was the best man for the job. "Oops," it says, adding it did not know Mr Carney was a candidate.
Jangling nerves
The idea of an electoral pact between the Tories and UKIP - as mooted by Tory campaign manager Michael Fabricant - is debated.
"UKIP's rise is jangling Tory nerves," the Guardian says.
"UKIP's leader, Nigel Farage, sounded like a boss organising a reverse take-over when he cheekily demanded David Cameron's head as the price of any deal," the Daily Mirror says.
Mr Farage told the Daily Express the party was not for sale.
Sense of foreboding
With its publication this week, there is debate over Lord Justice Leveson's report on press ethics.
The Independent says the principle of legislated regulation - however light - leaves it with a sense of foreboding.
But it says the current Press Complaints Commission model is broken and is too close to newspapers.
The Daily Telegraph warns David Cameron the Left sees Leveson as a chance to "smash the Tories" by neutering their supporters in the centre-right press.
CCTV footage
The Daily Mirror tells how an 18-year-old burglar hid in a wardrobe for 13 hours after a woman returned home as he was ransacking her house in Devon.
Police arrived to view the scene and left with footage from a CCTV camera - unaware he was still in the house.
He eventually left the wardrobe at 04:00 - and went on to steal more things.
The Daily Mail reports he was sentenced to five years in a young offenders' institution after admitting burgling the house on three previous occasions.