Number of UK women farmers grows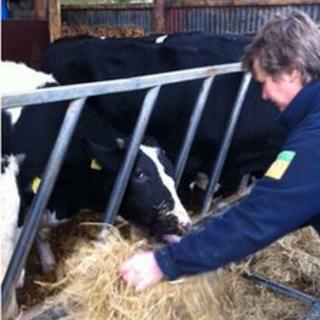 The work is hard, the hours are long and for some, this year has been a financial disaster. Farming as a career choice might seem unpopular, but figures obtained by the BBC suggest that more women are becoming farmers than ever before.
It is feeding time at North Carlton Farm and Rosie Dunn is separating some hay. The calves love it and they also love the attention from the stranger in the clean boots.
"Not a lot of farmers would have you around at the moment," she explains, "what with all the mud, it's really hectic because the livestock are being moved."
This year has been a wash out and they are currently placing bets on whether it will snow. It is the last thing they need, but more and more women like Rosie are choosing farming as a career.
Figures from the Office for National Statistics suggest that there are 23,000 female farmers in the UK. There are 119,000 men, but nine or 10 years ago there were virtually no women farmers.
And 2012 has seen a sharp increase with the number of women rising by 6,000, and the number of men dropping by 5,000.
'Grumpy male farmer'
The president of the National Farmers Union, Peter Kendall, says changes in both technology and attitudes have made farming a more open field.
"A lot of it is computer-controlled technology now and the idea of you having to work with a pitchfork or lug big bales of straw around has gone. If you go back 20 years there was a real public perception of grumpy old men leaning on a gate, chewing on a bit of straw," he says.
"Now, I could take you to three farms that are run by lady farmers and often they make me look a fool, they make a much better job than I do of it."
Rosie Dunn was just starting out when those images of the "grumpy male farmer" were fresh in people's minds. Her career adviser at school suggested she become a secretary or a nurse but farming was her ambition. She started doing summer jobs at farms and by the age of 19 she was taken on full time.
She recalls how other farmers regarded her as a novice and a novelty. "The men would say, 'Can you drive that love?' and it really fired me up. I said, 'Yes I can drive this tractor thank you very much.' I was really determined to do it."
Driving tractors or weighing livestock is demanding but Rosie says: "I'm physically fit and I want to do it. You'd probably get some other women saying it's not good for your health but I've never been afraid of hard work."
More students
After 20 years, Rosie is well known at the livestock auction in York. In a packed room, a two-month-old calf is being patted on the rear to make it turn in front the bidders. Here, the male farmers still outnumber the women by three to one.
One of them says he thinks that more women entering the industry is a good thing. "It's about time they did some work so us men can put our feet up!"
A few others believe women are "better organisers" and can help their husbands improve the business, while another believes it is only fair that women should "have a go" at it. Nobody mentions women making a success of farming in their own right, but that is also changing.
Some colleges across the UK are seeing more women study farming with no previous experience at all.
Helen Martin, a lecturer at Bishop Burton College in East Yorkshire, says the number of female entrants onto her agriculture course has almost doubled in the past two years and many come from cities.
She believes the increase is because women appear to be more interested in where their food comes from. "They're becoming increasingly aware of what they can be involved in, from the day the animal's born to seeing it on the table," she says.
The National Farmers Union says food production is just one area of farming that is becoming more popular with women.
Mr Kendall believes modern farming has brought a more diverse range of jobs to the industry.
"We need agronomists and experts in animal nutrition - even at the NFU we have some brilliantly-talented ladies advising farmers," he says.
Women are making an impression in the boardroom too. Sarah Dawson chairs the NFU's horticulture and potatoes board and the National Federation of Young Farmers has recently appointed Milly Wastie as its chairperson.
Times may be hard in the farming industry but for women, it is getting easier and with more women being seen in high-profile positions, the numbers are likely to grow even more.