Newspaper review: Summit collapse discussed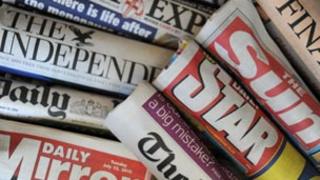 The collapse of the summit called to set a long-term budget for the European Union attracts much comment in the papers.
The Independent says the European Union is in disarray.
The Daily Mail says David Cameron deserves great credit for trying to force a spendthrift EU elite to join the real world, in which national budgets are being slashed.
But the Daily Mirror says the prime minister was forced to put the interests of the Conservative Party before the British national interest.
The Daily Telegraph says the real culprit was the European Commission, which failed to put forward any realistic proposals to trim spending.
The Guardian says the European community is moving in 27 directions.
Egypt protests
The Times says thousands joined violent protests in Egypt against a man they criticised as a "new Pharaoh" - President Mursi, who has granted himself sweeping new powers.
The Guardian says the president issued his decree after being buoyed by accolades for mediating the truce between Israel and Hamas.
The Independent says the speed of his descent from hero to villain must have set some kind of record.
The paper speaks of "worrying political battle lines" developing in Cairo with huge groups of rival protestors staging separate rallies.
The Daily Mail says 118 Conservative MPs have expressed unease about plans to allow gay marriage.
The paper says that if they all vote against the idea, it would be the biggest Tory rebellion in modern times.
UKIP anger
The Telegraph reports the anger of the UK Independence Party over the news that a couple who are party members had three foster children removed from their care.
The couple say social workers in Rotherham told them that UKIP was racist.
The party's leader, Nigel Farage, describes the action as an outrage and political prejudice of the very worst kind.
The main story for the Daily Express is the severe weather affecting much of the UK.
After the floods, it says, Arctic conditions are on the way - with temperatures as low as minus 15C, and a risk of snow across the country.
Church pressure
The Guardian says pressure is piling on the Church of England to vote again on women bishops.
It carries an interview with the Culture Secretary and equalities minister, Maria Miller.
She says she hopes the church has heard, loud and clear, the strength of feeling and it acts quickly.
In the Times, the former Archbishop of Canterbury, Lord Carey, calls on the Church to rip up its rule book and think again.
The Telegraph reports that Debenhams has decided there will be no Santa's grottos in its stores this year.
It has apparently had complaints from parents about the increasing number of Santas in shopping centres over the past few years.
It seems there have been awkward questions from young children, wanting to know who is the real Father Christmas.