Street trading reform plans spark warning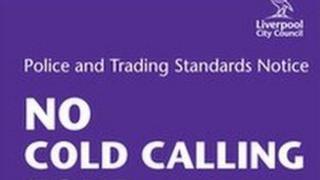 Plans to scrap rules on street trading and door-to-door selling in England, Wales and Northern Ireland could expose the public to more rogue traders, the Local Government Association says.
The LGA also says the move could lead to a rise in bogus cold callers "who prey on the elderly and vulnerable".
Ministers say scrapping the "archaic" Pedlars Act of 1871 and reforming laws on static street traders will help entrepreneurs and small traders.
They are now consulting on the plans.
'Free-for-all'
The Pedlars Act requires those who wish to "peddle" - travelling by foot and selling goods door to door and place to place - to first get a certificate.
The current legislation requires pedlars to prove they are of "good character" and have a permanent address before police will grant them a 12-month licence.
The coalition also plans to reform laws on static street traders, including removing council powers to refuse an application on the grounds there are already enough traders and shops in a particular area.
Local authorities have previously raised concerns about looser restrictions, warning that an increase in numbers would make it more difficult to monitor traders.
Consumer Affairs Minister Jo Swinson said: "The changes we're proposing will help to eliminate barriers to street traders and pedlars by making it easier to trade, boosting retail and helping small traders - including many young entrepreneurs - to expand and grow.
"The Pedlars Act is an archaic law which requires those wishing to peddle to obtain a pedlar's certificate (and pay a fee for this) at a time when small businesses are at the heart of continuing growth in the UK - this is unhelpful and restrictive bureaucracy. These proposed changes will help give a boost to those that trade on the street."
The Local Government Association says the plans would also remove council's powers to refuse applications from street traders based on how many shops and traders are already at work and risk turning high streets into a free for all.
Councillor Mehboob Khan, chairman of its safer and stronger communities board, said: "The work local authorities do to regulate street trading is not just about protecting customers, but ensuring other businesses can prosper too.
"Far from boosting growth and free enterprise, allowing a street trade free-for-all is likely to drive customers away from the high street and create an unlevel playing field where legitimately run shops and market stalls find themselves struggling to compete.
"Scrapping the Pedlars Act is likely to lead to an increase in door-to-door cold calling and could potentially put the public at greater risk of falling victim to rogue traders and rip-off merchants."
The Department for Business, Innovation and Skills consultation on the proposals will run until 15 February.