Viewpoints: Women bishops - where next?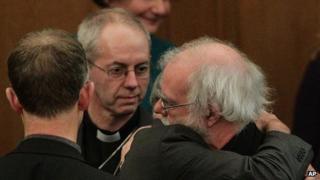 As soon as the Church of England's general synod narrowly rejected the law allowing women bishops, there were calls for fresh discussions to enable it to be altered and passed.
Most opponents accept the CofE will have women bishops - but they want those who cannot accept them to still have a place in the Church.
Many supporters of women bishops say they have made enough - and possibly too many - concessions already.
BBC News asked some of those involved in the debate what their core beliefs are - and what they don't want to compromise on.
The Rev Janet Appleby, diocese of Newcastle
After 12 years of discussion and consultation, the proposal we had before us at General Synod on 20 November was the best possible, given the incompatibility between the beliefs of those on opposite sides of the debate - that women can be bishops or that they can't.
A good outcome would be if we reconsidered our procedures. In particular a careful assessment of how, and by whom, the various decisions were made at several points this year might help us to avoid such a debacle in future.
Sufficient consensus needs to be established beforehand so that a final debate doesn't end up on a knife edge.
We also need to look carefully at the theology and ecclesiology underlying the whole debate.
The media and politicians may be impatient for a quick fix, but the Church of England must not be bounced into cobbling something together which creates more problems than it solves.
We need to remember the unintended consequences of hasty arrangements made through the 'Act of Synod' in 1993 (which made provision for parishes who would not accept woman priests to be overseen by alternative bishops).
Fortunately, God can always bring astonishing and creative good out of the mess we get ourselves into, so I do still hope for a future in which all God's people, of whatever gender, can flourish equally.
Canon Simon Killwick
The vote in General Synod was an entirely avoidable disaster - had the compromise amendment proposed by the two Archbishops in 2010 been included, the legislation would have passed.
That vote was not against women bishops; it was against legislation which failed to provide for the consciences of those who cannot, on religious grounds, receive the ministry of women bishops - a very different matter in a broad and diverse Church.
We need round-table talks now between representatives with differing convictions to reach agreement on fresh legislation which is capable of commanding consensus.
Traditionalists need the ministry of appropriate bishops guaranteed by law, not dependent on a Code of Practice.
These bishops must work in partnership with women bishops, but they must be able to minister in their own right, rather than under delegation.
Fresh legislation could helpfully follow the example of the Church in Wales, comprising two measures, one to provide for women bishops, and the other to provide bishops for traditionalists.
The Rev Dr Miranda Threlfall-Holmes, vicar of Belmont & Pennington
This must not be allowed to drag on for another five to 10 years.
I am made slightly more hopeful by the outcry the vote has raised, which shows that the people of England do still care what the Church of England thinks and does.
Those speaking against the legislation called for more provisions for those who want to insulate themselves from women's ministry. But I can't see any way in which more provisions could be made without fatally undermining both the women who became bishops, and the whole office of bishop.
The bottom line in any future negotiations remains the same: women must become bishops on exactly the same terms as men. There must be no suggestion in the law that the Church of England remains ambivalent about the validity of women's ministry or full equality before God.
But my feeling now is that, since the compromise package has been rejected, those opposed have demonstrated that they won't in fact accept any compromise. We should now bring forward a single clause measure, simply saying that women can be bishops.
Dr Threlfall-Holmes can be followed on Twitter @MirandaTHolmes
The Rev Dr Hannah Cleugh, Oxford diocese
On 20 November, many speakers called for "more provision" or "better provision" for those who oppose the ordination of women to the episcopate. Almost no-one said they didn't accept that the Church of England should now have women bishops.
So, how do we write law that will allow women to be bishops on an equal footing as their male colleagues, but also make provision for those who cannot accept their authority or ministry? There is a theological circle which cannot be squared.
The measure that fell six votes short on 20 November was a painful attempt at a compromise, and had received approval in 42 out of the 44 dioceses.
It is hard to see now what compromise might command a consensus with the current Synod, or how it might be "improved" in a way that would not be rejected as too discriminatory.
And many supporters of women bishops are now wondering whether there was ever any point at all in trying to compromise, and are calling instead for a return to a single clause measure that would simply allow women to be bishops.
Canon Dr Chris Sugden
People did not vote against women bishops, but against this particular measure.
The real question is whether a bishop is a monarch or whether there can be plural and collaborative leadership. All bishops have equal authority in their own sphere of ministry.
The authority of women bishops would not be diminished by sharing their authority with a male bishop, since all would have to so share.
We have offered varieties of this solution many times. People need one where in conscience they can accept the authority of the male bishop in whose jurisdiction they serve and they need some such conservative bishops to be appointed following an agreement.
Traditional progressives, rather than slavishly following tradition, hold that faithfulness to the Biblical teaching is the only ground for challenging injustice, poverty and oppression.
They look for an arrangement which secures their future in the Church of England as a legitimate Anglican position and which provides a regular supply of ordinands accepted for training, ordination, deployment and appointment to senior posts and the office of bishop.
The Rev Stephen Kuhrt, vicar of Christ Church, New Malden
What happens now is difficult.
The House of Laity is clearly unrepresentative of those it is meant to represent, with lay members of the Church of England being, like its bishops and clergy, overwhelmingly in favour of women bishops.
The next elections for General Synod in three years' time may well turn into a virtual referendum on the issue, meaning that a very different House of Laity will surely be elected.
It is vital for lay people in the Church of England to wake up to their responsibility to get people elected to General Synod who will properly represent them.
What there cannot be is any further concessions to opponents beyond those contained in the measure just rejected.
It is impossible to go further than the legal requirement for respect to be shown to opponent's convictions without ending up with women being established as semi-bishops rather than full ones.
Opponents of women bishops need to wise up to this if they are not to end up with the single measure that many now want and which may well be best.
Pete Myers, Church Society and Together 4ward
Parishes could opt in for oversight from an alternative bishop with authority in his own right. Or through some kind of 'society' monarchical style bishops could become team ministries, a change already introduced at the parish level.
Like the majority of Anglicans worldwide, we believe Jesus positively affirmed the distinct identities of men and women in the church.
But in the spirit of charity and compromise, evangelicals and Catholics were prepared to say "yes" to women bishops at least twice in the last two synods.
And there were many other helpful avenues that were shut down early.
The legislation was stalled by a minority group unhappy with any provision at all for traditionalists.
The vast majority of the Church of England want women bishops, but also want fair provision for us. So if we must change a 2,000 year old institution by introducing female bishops, please can we do so in a way that still allows classical Christianity to flourish?
Pete Myers can be followed on Twitter @PeterDMyers
Archbishop of Kenya Eliud Wabukala
Although I realise many will be very frustrated that the Church of England's General Synod failed to pass legislation to admit women to the episcopate by such a narrow margin, I believe that this result will come to be seen as a positive turning point.
The key issue at this stage was the maintenance of proper safeguards for those who as a matter of theological principle could not accept such a fundamental change.
I am therefore heartened that the Church of England has stepped aside from following the path of the Episcopal Church of the United States which has progressively marginalised and excluded those who seek to hold to historic Anglican faith and order in good conscience.
Now that legislative pressure has been removed, it is my prayer that there can be a period of calm reflection in which the biblical understanding of calling, for both men and women, will be prominent."
The Most Rev Eliud Wabukala chairs the Primates Council of the worldwide Fellowship of Confessing Anglicans (Gafcon)