Lord McAlpine in £125,000 settlement over ITV broadcast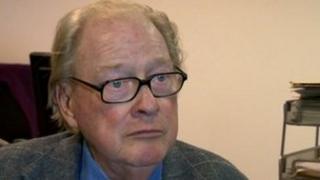 Conservative peer Lord McAlpine has reached a £125,000 settlement with ITV and Phillip Schofield.
It is in relation to a This Morning programme broadcast in November during which the presenter handed the prime minister a list of names of alleged abusers he had found on the internet.
This followed a Newsnight investigation which led to the peer being wrongly accused of child abuse.
Broadcast regulator Ofcom has launched an investigation into the incident.
Earlier this month, the BBC agreed to pay the Tory peer £185,000 in libel damages following the Newsnight investigation into child abuse in North Wales.
Lord McAlpine's name was not broadcast by the BBC, but he was wrongly identified on the internet.
'Pragmatic'
He said the damage of the Newsnight report "can't be repaired" and he now has to live with the legacy of suspicion. Newsnight carried a full, on-air apology for the broadcast a week later.
His solicitor, Andrew Reid, told the BBC his client was "pleased" with the size of the ITV settlement, which he described as "pragmatic".
"We accepted the legal argument that the Newsnight programme had effectively set the pot - it was already boiling at that point.
"The Schofield stunt added fuel to the fire that was already there and we had to take that into account," he said.
Mr Reid confirmed that legal action will now be taken against other parties, such as newspapers and high-profile users of the social-networking site Twitter.
Among them is Sally Bercow, wife of the speaker of the House of Commons John Bercow, whose legal team has been in touch with Mr Reid.
Lord McAlpine has asked those who linked him to child abuse allegations on Twitter and other social networks to apologise formally and pay a "sensible and modest amount", which he plans to donate to BBC Children in Need.
Mr Reid added that they had spoken to "senior officers" at Scotland Yard to discuss criminal behaviour on Twitter.
"There are a hard core of people who are re-tweeting and who are basically acting maliciously. This is an offence."
He added, however, that it was up to the police to decide whether to investigate further.