Undercover police officer 'attended family funeral'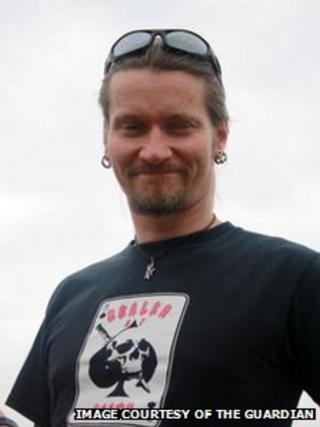 Two undercover police officers tricked political activists into having sex with them - and in one case attended a family funeral, a court has heard.
The claims, by ten women, were made during a High Court hearing that the Metropolitan Police attempted to have heard in secret.
Three of the claims relate to Mark Kennedy, whose exposure sparked a series of inquiries.
The women's lawyers want the hearing held in public.
In written submissions to the court, lawyers for the three women said Mr Kennedy had "encouraged them to become emotionally dependent on him and to publicise their intimate relationship with him widely amongst other activists and their own families."
Mr Kennedy's exposure in 2010 led to the collapse of a trial of several environmental protesters.
The women's lawyers say the cases "raise serious questions about police misconduct and the extent to which police officers can invade the personal, psychological, and bodily integrity of members of the general population."
Other claims relate to Mark Jacobs, a Metropolitan Police officer who, in 2009, masqueraded as a lorry driver from Northampton to infiltrate a small group of anarchists in Cardiff.
The claimants' lawyers say "he exploited the vulnerabilities of the claimants and sought to encourage them to rely on him emotionally".
It is alleged Mr Jacobs had sexual relationships with two women in the group.
At one point he accompanied one of the women to the funeral of her father, who had died of cancer.
The boyfriend of one of the women is also seeking damages from the police as a result of Jacobs' relationship with his then partner.
Lawyers for the Metropolitan Police argued the claims should be heard behind closed doors by an Investigatory Powers Tribunal.
The hearing continues.