Top judge announces decision to step down next year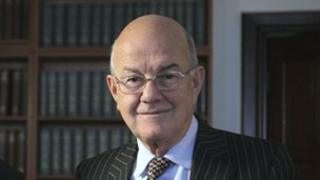 Lord Chief Justice Lord Judge - the most senior judge in England and Wales - has announced that he is to retire next September.
Lord Judge, who is 71, has been head of the judiciary and president of the courts for just over four years.
The Judicial Office said Lord Judge had written to Lord Chancellor Chris Grayling informing him that he would be stepping down.
The process of selecting his successor will begin early in the new year.
During his time in the post Lord Judge has spoken out about controversial issues facing the judiciary.
In September he described his "real fury" that cases such as that of radical cleric Abu Hamza took so long to go through the courts.
'Real fury'
When asked about the Hamza case during his annual press conference at the Royal Courts of Justice, Lord Judge said: "Any case that takes eight years through a whole series of judicial processes to come to a conclusion is a source of real fury to me.
"We really cannot have cases taking that long to reach a solution. It is not fair to anybody, it is not right."
Abu Hamza al-Masri was extradited to the United States - where he faces terrorism charges - in October.
Last year Lord Judge warned that the integrity of trials was in danger of being damaged by the internet and modern technology.
Responding to several cases in 2011 in which jurors had jeopardised hearings through their activities online, he said he was concerned at how easy it had become for jurors to research cases despite orders in court not to do so.
Lord Judge, who was born in Malta, became a High Court judge in 1988 - and was appointed Lord Justice of Appeal three years later.
From 1998 until 2003 he was senior presiding judge for England and Wales, and in 2005 was appointed as the first president of the Queen's Bench Division.